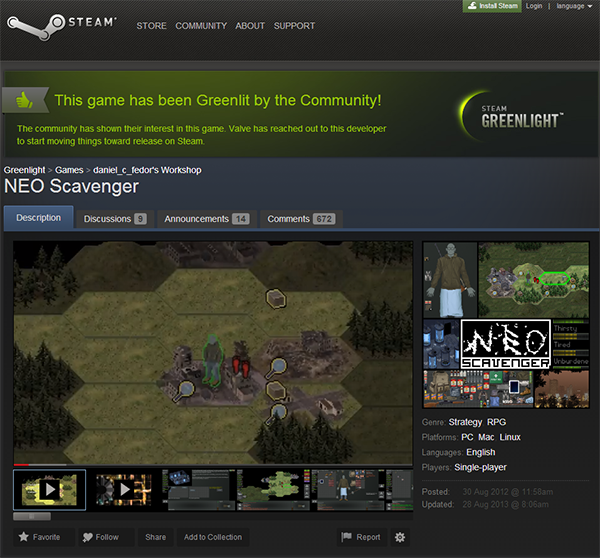 Looks like we maaade it!
I was going about my usual morning routine, when I see an email pop up in my inbox: "you just got greenlit." I stopped whatever I was typing, and immediately checked the link. Seeing that green banner across the top sent chills down my spine.
NEO Scavenger made it!
I've been sitting at rank #30 to 50 for such a long time, I figured I'd have to do a few more rounds of publicity to make a dent. I even did a tentative start last week, and was planning on resuming later this week.
Then, out of nowhere, Valve decides to slam 100 titles down the hatch at once. "Stress testing our system," they say. Well, whatever the cause, I'll take it!

What Does This Mean for NEO Scavenger?
Well, nothing changes just yet. I have to submit a bunch of paperwork to get enrolled, and then figure out a release date. So priority #1 is still getting NEO Scavenger finished.
The main difference is that I no longer have to worry as much about doing publicity pushes to get enough votes on Greenlight. Now that I'm accepted, there's a good chunk of publicity that comes free with launching on Steam. Future sale prices (e.g. holiday sale) will help, too.
I may still do some publicity pushes in the meantime, but they'll mainly be for increasing sales (and therefore, funding).
There's also a chance NEO Scavenger could be accepted into Steam's "Early Access" program. Basically, that means NEO Scavenger could go on sale through Steam as a beta, much like it is now on my site and Desura. Doing so requires that NEO Scavenger has certain Steam hooks integrated, so I'd have to figure that out before I make any progress there.

Will Existing Customers Get Steam Keys?
This question comes up a lot, and my answer is "yes." I'm not sure how it works, or how other developers do it, but I want to give existing Blue Bottle Games and Desura customers access on Steam. So as long as there is a way, it'll be done!


Will Customers from Other Sites Get Steam Keys?
If you're a customer from the Groupees Be Mine 5 bundle, you should've received a Desura key, so you're covered, too.

As for the rest, it'll depend. Not every vendor makes this process easy (or even possible), so I don't want to promise anything. So for now, only Blue Bottle Games and Desura/Groupees customers get automatic Steam access.

Thank you to everyone for your support, votes, and spreading the word. We made it happen!