Welcome back! This month we're giving you another glimpse into the wondrous time warping HMCS Britannic with our new map, adding more ammunition to your abilities roster and more faces board the ship.
Let us know your thoughts below 😊
Thanks for your support over the last few months and enjoy!
---
RELEASE NOTES 1.5.0
FEATURES
Arboretum Level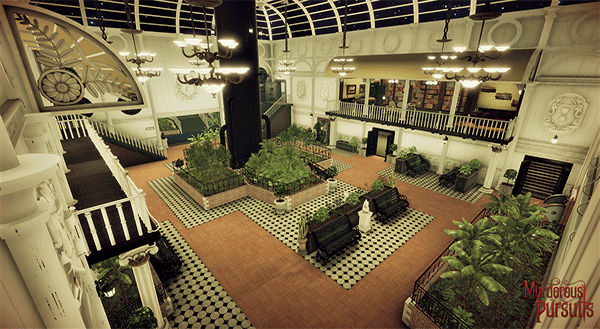 The Arboretum of H.M.C.S Britannic provides a tranquil haven for the aristocrats looking for an escape from the more unsavoury types while also providing a space for horticultural specimens and research.
Pie Bomb Ability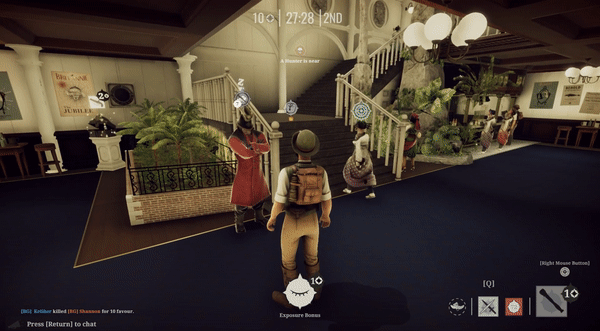 Place a deliciously deadly trap that will explode when a Quarry or Hunter approaches it.
New Characters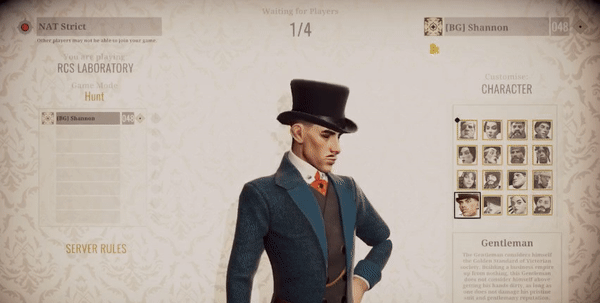 Four new characters have boarded the ship and are ready to kill their way to the top! Introducing the Widow, Gentleman, Gokudo and Adventurer.
New Perks
Use Nimble to close the gap on your prey with increased fast walk and run speeds or keep track of them with Determined, increasing your target lock time for targets that goes out of sight.
New Achievements and Calling Cards
We've added 38 new achievements and 25 new calling cards for you to customise your player profile with.
Targeting Improvements
Targeting highlight now has a short delay before removing itself when a target is deselected.
Players can no longer be highlighted when they are being arrested, attacked or attacking.
Over-the-shoulder zoom occurs when target lock is activated.
Target lock reticule repositioned.
Target lock icon added to the HUD.
Kill Impact
Field of View change occurs when making a valid attack.
VFX for frontal attacks and backstabs have been improved.
VFX added to the backhanded hunter slap.
VFX added to stunned hunters.
VFX added to players that have been killed.
VFX added when corpses despawn.
Screen desaturation effect added when player has been killed.
Screenshake added to backstab attacks.
Ragdoll forces have been improved.
Kill Messaging
Primary messages now show the type of kill that the player has made.
Score breakdown after a successful kill now shows one at a time rather than all in one panel.
Kill from a vignette bonus has been renamed 'Ambush'.
Kill from with a backstab bonus has been renamed 'Backstab'.
Kill with an ability bonus has been renamed 'Used Ability'.
Kill an exposed quarry bonus has been renamed 'Quarry Exposed'.
Vignettes
Players now appear as a grey question mark on the hunter indicator when in a vignette, hiding the 'hunter near' status from their quarry.
A short buffer period has been added to the 'Ambush' bonus so that players are still awarded it if they move before making the kill.
Unlocking Skins
1st character skin unlock favour reduced from 250 to 100.
2nd character skin unlock favour reduced from 500 to 250.
3rd character skin unlock favour reduced from 1000 to 500.
4th character skin unlock favour reduced from 2500 to 750.
Unlocking Characters
Initial character unlock favour reduced from 5000 to 1000.
Unlocking Taunts
1st taunt unlock favour reduced from 25 wins to 10 wins.
2nd taunt unlock favour reduced from 50 wins to 25 wins.
Unlocking Perks
Chameleon unlock level increased from 6 to 16.
Resourceful unlock level increased from 16 to 22.
Gambler unlock level increased from 22 to 39.
Unlocking Abilities
Counter unlock decreased from level 4 to level 19.
Flash unlock decreased from level 8 to level 34.
Humiliate unlock decreased from level 13 to level 25.
Disrupt unlock decreased from level 19 to level 4.
Subvert unlock decreased from level 25 to level 13.
Ability Balances
Increased duration of Reveal from 8 to 10 seconds.
Increased duration of Disrupt from 5 to 8 seconds.
Reduced duration of Disguise from 30 seconds to 20 seconds.
Reduced cooldown of Disrupt from 60 to 45 seconds.
Reduced cooldown of Subvert from 75 to 60 seconds.
Reduced time it takes to Reveal targets from 0.75 to 0.5 seconds.
Reduced amount of Exposure increase while Humiliating.
Flash will no longer cancel Disguise.
Scoring Balances
Decreased backstab bonus from 5 to 4.
Increased ambush bonus from 4 to 5.
XP Balances
Reduced most kills and most stuns XP reward from 1000 to 500.
Increased first game of the day XP reward from 2000 to 3000.
Reduced XP scaling per level from 1000 increase to 500 increase.
Kairos Rank Balances
Initiate rank range has been changed from 0-800 to 0-1300
Disciple rank range has been changed from 800-1200 to 1300-1500
Acolyte rank range has been changed from 1200-1600 to 1500-1700
Chosen rank range has been changed from 1600-2000 to 1700-1900
Master rank range has been changed from 2000-2400 to 1900-2100
Grandmaster rank range has been changed from 2400+ to 2100+
Misc
Added new music tracks.
Reduced the end game score screen timer from 30 seconds to 20 seconds.
BUG FIXES
Fixed locked Perks not being visible in the lobby.
Fixed skulls on the scoreboard during Elimination games not updating.
Fixed camera controls becoming inverted after death.
Fixed camera clipping issues with NPCs.
Fixed some audio issues in the Library level.
Fixed Chrono Capacitor spelling error.
Fixed confetti VFX appearing at the bottom of the screen when a game starts.
Fixed initially spawning as a different character when joining mid-game with Chameleon equipped.
Fixed issue where Disrupt VFX was not looping correctly.
Fixed issue where Disrupt effect time was incorrect for bots.
Fixed graphical glitch with the Assassin's mouth.
Fixed death camera focussing on the wrong corpse after being killed twice in quick succession.
Fixed wrong information being displayed on pop-up when attempting to create a Public game with no password.
Fixed pull out weapon animation from triggering on the game over screen.
Fixed "Your Quarry [Player] has left the game" message not being shown.
Fixed "minutes" not being displayed on the setting for Elimination round length.
HAPPY HUNTING!
- Blazing Griffin Team