It has been a while since the last post, so I will give you a heads up on what you can expect from the next major release of Multi Theft Auto: San Andreas - 1.1.
The next version will not be backwards compatible with older releases in terms of client-server connectivity. As you know, 1.0.x series are mostly compatible with each other, meaning that you could eg. connect to a 1.0.3 server while your client was 1.0.4, and vice-versa.
The compatibility with 1.0.x series will be dropped in this release due to network changes we had to introduce in this version, in order for some of the new features to work. Your 1.0.4 resources should be working just fine in 1.1 as they are now though, or with some minor adjustments.
Here is what we have introduced in this version so far:
- maximum players slots limit for servers was increased - it is capped at 250 now (from 128 in 1.0.x series)
- voice chat feature was introduced along with related scripting functions, based on Speex codec
- we have added support for Unicode characters in chatbox and gui boxes - this allows you to use Arabic, Cyrillic, Chinese and other non-latin characters in chat and other gui boxes properly
- we have introduced new audio library for custom sounds - we replaced irrklang with BASS audio library, which gives you new possibilities such as using internet streams (eg. shoutcast radio) as custom sounds
- now it is possible to use special character skins such as Sweet, Tenpenny, Wu Zi Mu and more ingame
- added server-side synchronisation for traffic lights - a requested feature useful for roleplay or racing servers
- server browser and anticheat system were improved
- knives were made more balanced
- added performancebrowser resource, which can be used for monitoring how much cpu power a certain resource uses
Lots of effort has also been put into scripting functions for customising vehicle handling , but at this point we don't know if we will finish them before 1.1.
Aside from these, there are also dozens of bugfixes, mostly related to scripting system. You can learn about them here and here. Many of these changes are community contributions, for which we are very thankful to their authors.
Despite the work being focused on 1.1, MTASA 1.0.4 also got a nice slice of the pie, with ccw backporting some of the bugfixes and features to it, such as improvements to the autoupdater and crash fixes. If you are having problems with your 1.0.4 client or server, I would recommend updating it to the latest version, which can be found here, in the 1.0.4 section.
On a closing note, there are few more things I would like to address in this post.
Firstly, you certainly have noticed that our wiki has been offline quite often recently - it seems to be causing problems with our second webserver. We are working on resolving this issue, but in the mean time it might be offline now and then. Luckily, thanks to one of our users, you can always try the offline wiki copy when the main one is down.
Secondly, thanks to Gijs and gta-multi.com staff, we now have a new web-based server list - monitor.mtasa.com. It was made specifically for MTA, so it is much faster that Game-Monitor. You might want to give it a try.
And finally - we are proud to announce that at 9th of October we have had more than 2.600 concurrent MTA players on our servers, making MTA:SA 1.0.4 the most popular release in Multi Theft Auto's history!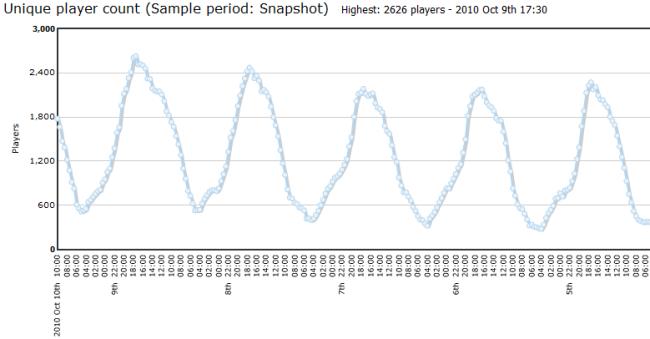 This, of course, would not be possible without continued support from you, our great fans, so we would like to thank you all for playing our mod and promoting it.
That is all for now.