Because of our wonderful fans we made the top 100 unreleased mods again this year. We really can't thank you guys enough, it's because of you guys we keep making this mod. As a token of our gratitude we bring you this:
THE BIRTH OF A CUTSCENE
Hey guys. My name is Testudinidae… Well, it's not my "real" name. That would be weird, but this is how I'm known on the internets. Anyway as some of you may know (probably not, though ): ) I'm the guy who makes cutscenes/FMV (whatever you prefer to call them) on the Tiberian Dawn team and I'm here today to show you how this is done from start to finish.
What we will be looking at today is the recreation of this
one of the Nod victory FMVs.
A scorpion tail smashing a GDI logo that shouldn't be too hard to recreate, should it? Turns out it wasn't as easy as one should think, but more on that later.
The first thing I did was to create the basic models.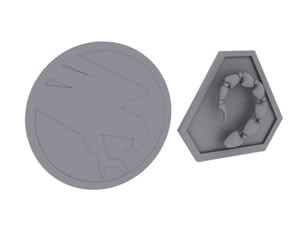 Using the lovely 2D-logos Bluescreen created back in the day as a base this step was accomplished fairly easy. Then it was texture time.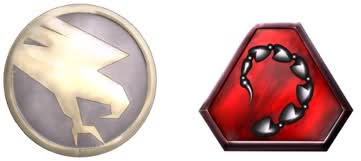 Because of the before mentioned 2D-logos this step was even easier done. If you look closely at the GDI logo you will see some small grooves that I added to indicate that the logo in the video is in fact made out of bricks. The next step from there was to divide the logo up in little pieces matching the groove pattern. When that was done the logo looked like this: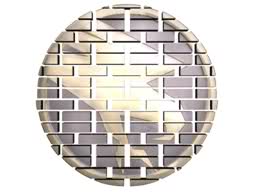 With all the modeling and texturing done it was time to get my animation on (aww yeah!).The scorpion tail and the Nod logo animations were pretty straight forward and after some feedback from the team (basically them telling me it was completely useless a couple of times) the animations were finished.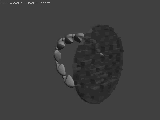 Now the GDI logo was a little bit trickier. Initially I thought I could just simulate it all with some physics. Although this was possible and the GDI logo did get destroyed it just didn't look right, here's an example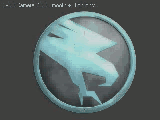 (Don't mind the color of the logo, you aren't high or something… Well maybe you are, but in any case that isn't the reason why the logo is blueish)
As you can see this wasn't the way to go. So after several failed tries at simulating the whole thing, I finally decided that there was only one way to go about it; animate every single piece of the logo. By hand. One at a time. So after hours and hours of excruciating animating time and some more feedback from the team this is what I came up with.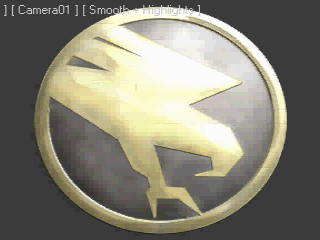 At that point I figured I just needed to add some lighting and some motion blur and that would be that. I was wrong again. While it looked okay there was definitely something missing: the little details that makes it look "good" instead of just "okay". To create these details I first made this video

It is timed with the animation in such a way that when a brick breaks off of the logo the edges of said brick turn up as white in the video. This was again done by hand.This video was the used for 3 things
1. As a mix-map for the GDI logo texture; where the video is black there's the normal logo texture, but where it's white there is a concrete texture instead. This was done to make it seem likethe joints between the bricks are breaking apart.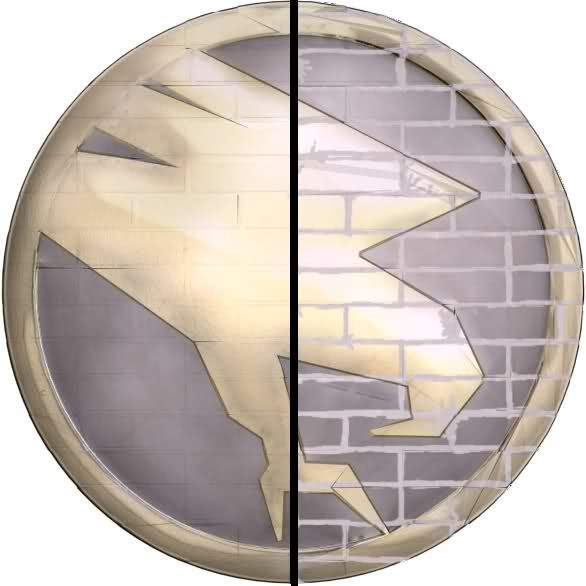 2. As a particle emitter that makes it seem like bits and pieces are breaking off of the logo

3. And finally as another particle emitter that creates dust when a brick falls of the logo

This, to me at least, really made the video quality jump from "okay" up to "good". All that was left from there was to add some sounds. So I took the microphone from my headset and recorded the sound of me smashing some bricks together. After some mixing and the addition of the awesome song "Unholy Temple" from our very own NeptuneUK it was finished.
Now if you want to see the finished result you have to wait until our mod is released. Nah just kidding :) I'm not an evil person.
Here you go; the finished Nod victory FMV.
It's been a pleasure giving you guys some insight in the process of FMV creation. And thanks again for voting on us.
- Testudinidae, Animator for the Tiberian Dawn team.