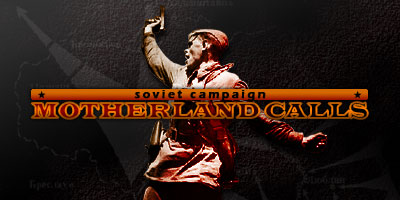 Motherland Calls mod is available for download now
As promised earlier, Motherland Calls is now following Achtung Panzer and gets published here on ModDB too, together with all of its supplementary content.You will re-fight World War 2 in Europe as a Soviet commander now.
With Motherland Calls, you can again look forward to another huge payload of 29(!) playable single-player missions. These missions take place on various battlefields of the Eastern Front where the Red Army was fighting, so you will be able to take part in such encounters as a battle of Grodno, Petsamo, Dubno, Yelnya, Moscow, Stalingrad, Kursk, Kiev, Korsun, Jassy, Budapest or Berlin itself.
Completely new gameplay style
But Motherland Calls offers you more than vast amount of challenging missions. It introduces a broad range of gameplay changes, which change and improve the combat style from scratch. Implementing these changes made it possible to even better balance individual roles of every weapon type in the game, making their cooperation in battle much more important than ever before.
If you were playing Achtung Panzer before, you probably know already, that the popular tactics from original Blitzkrieg game of relying on tanks and armored vehicles only without any additional support was not working there anymore. This is valid in Motherland Calls mod too, as you will again have to use a combined arms approach in order to succeed in battles.
It will be vital to win aerial dogfights to gain air superiority over the battlefield. It will be necessary to use long-range artillery and howitzers as well as mortars to support your troops in both offensive and defensive. You will learn to attack enemy positions from multiple directions and with mutual support of armored and infantry units. You will need to think as a real commander and use your armored units as mobile reserves to out-maneuvre your enemy, because AI will definitely focus its attacks on narrow parts of the frontline in order to achieve breakthroughs in your defenses. And remember, positioning your tanks is more important than ever, as tanks like Tiger will be almost impossible to destroy by hits to the frontal armor most of the time.
More content... Much more
Thanks to contribution of various authors, you will also meet more than 100 new units during the campaign, either as your own forces or as forces of your enemies. These are for example Panzerjäger I tank hunter, PzKpfw I Ausf. B light tank, PzKpfw IV Ausf. H medium tank, Junkers Ju 87G dive bomber, T-28 obr. 1938 medium tank, Polikarpov I-16 fighter, Ski-Riflemen, 43M Zrinyi II assault gun or TKS tankette.
And last but not least, Motherland Calls also includes a completely new intermission interface and new intermission menu music, so that you can really feel how it was to be a Soviet commander.

Add-ons coming soon
Keep checking Motherland Calls mod page here on ModDB, because its add-ons The Other Side and Buzuluk to Prague are coming soon, so don't miss them.
Meanwhile, you can browse through the Downloads section of Motherland Calls, where you will find additional content, such as custom music for main menu, various language packs for this mod, or tutorials.
Have fun and enjoy!