It's been a while since my last release, so this has a double dose of updates.
To start off, our team has gotten much larger! We've added three more 3D Artists: Bojin, Paul, and Alex. They are diligently working on the models and characters that will bring the DEADLOCK world to life. Our new Audio Director Tony, with the help of Andy (our audio technician) is tackling the gargantuan task of recording and perfecting every sound we plan on using in the mod.
Though it was a slow week for 3D Non-Character development, we have had some major strides in Zombie Art development, thanks to the lovely/grotesque work of Hannah. We've posted the bulk of her work on our ModDB Page. Here's a snippet for you: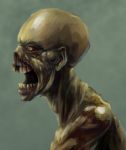 From this, Alex and Bojin have begun working on models for the zombies, and some early stills of these will be released soon on our website. Starting this week, all 3D promo materials will be released a week early on our forums before they are released on forums like this one. So, if you want to get the most up-to-date info on the mod, please join us at DEADLOCKmod.com
We're working hard to keep our community entertained between updates. We've added a Zombie Apocalypse Role-Play section to our forums and our L4D Parties have also been growing. We're currently looking into getting a couple dedicated servers up to make hosting the games easier for our staff, as well as a means for trying out some custom gameplay.
Thank you all for the continuing questions and support.
-O'Malley