Way of Tanks - is a mix of runner and scrolling shooter for android devices, which has been in development since the beginning of this year. Players are competing in cross-country race, with obstacles, mini-bosses, power-ups, upgrades and all the other stuff that takes place in a perfect time-killer!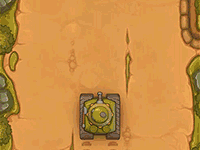 For this game was chosen a 2D top-down camera and intuitive controls: swipe left or right to change lane, swipe up to jump, swipe down to shot.We keep develop the game, improving it according to players suggestions. Right now we are working on adding more tanks and mini-bosses.
Game is already published and gaining popularity on Google Play. We appreciate all your feedback and support!
CLICK ME -> Play.google.com