Welcome to the August progress report. Not much has been done in terms of completion, but milestones have been reached!
LIGHTSABER OVERHAULS
Over the course of August, the Lightsabers have been given a complete overhaul and is 100% completed, with significantly more lightsabers for you to play with. Here is a complete list of all new lightsabers added to the mod:
Anakin Solo
Asajj Ventress/Komari Vosa (2003 Microseries)
Asajj Ventress (Bounty Hunter)
Barriss Offee
Boc Aseca
Cal Kestis
Darksaber (TCW and Rebels appearances)
Darth Malgus (Broken)
Darth Maul (Siege of Mandalore duel)
Darth Sion
Darth Talon
Darth Vader (Episodes 3-6)
Eighth Brother
Fifth Brother
Galen Marek (Ceremonial Jedi Robes)
Galen Marek (TFU II)
Galen Marek (TFU II Promotional + Comic appearance)
Ganodi
Gungi
Imperial Knight
Jacen Solo
Jaina Solo
Jerec
Jocasta Nu
Katooni
Kazdan Paratus
Kento Marek
Leia Organa
Luminara Unduli
Mara Jade (Emperor's Hand)
Maris Brood
Maw
Orgus Din
Petro
Pic/Gorc
Pong Krell
Praetorian Guard weapons
Qu Rahn
Rey (TROS)
Rey Palpatine
Rey Skywalker
Rig Nema
Rosh Penin
Sariss
Seventh Sister
Shadow Guard
Tavion Axmis
Thexan/Arcann
Turanis (Fan-made)
Yaddle
Youngling
Yun
Zatt
Zayne Carrick
With these additions, most other lightsaber models were also updated thanks to the talented work of Plasma and Doughnuts from Jedi Academy's modding community. We cannot thank them enough.
A number of lightsabers will also see to the addition of new sounds, some came with the Plasma/Doughnuts pack, others came from the hard work of one of our team members.
This change will also see to necessary changes for a number of Lightsaber staves. A large number of staves, not all, will be throwable and will have their blades extended to a normal lightsaber length. In hopes to balance this, the lightsabers will have their damage reduced by 20%. This number may end up changing with further player feedback.
Additionally, yes, you will be able to dual-wield Pong Krell's lightsaber.
NEW LIGHTSABER MENU
But what good are new lightsabers if you can't select them easily? Over the course of August, a brand new lightsaber menu was developed and reached completion. Developed alongside it was a new development tool to allow us to easily add and remove any lightsaber to the mod in just a few seconds instead of a few hours.
Inspired by the lightsaber menu featured in the classic mod Escape Yavin IV: The Lost Maps, a new saber menu was built from the ground up, allowing you easier access to freely select any lightsaber featured, instead of needing to scroll. Upon selection, you'll be greeted with a short description of the weapon's history, and the canonical color of the lightsabers will be automatically applied (where applicable).
Two annoying bugs with the original Knights of the Force saber menu have been addressed:
You will no longer turn into a stormtrooper when selecting your lightsaber after loading a map or starting a new game.
You will automatically be equipped with a lightsaber upon selection, so all characters (jedi/sith or otherwise) can use one at your will.
NEW NPC SYSTEM
Coding is presently in progress for the new NPC system to allow for full functionality in a brand new NPC menu. In order to take full advantage of the system, an older command coded for the original NPC system back in July 2018 will be removed. This command was the cause of a number of crashing issues, this will no longer occur.
The NPC menu is currently in progress, and the NPC customization area is undergoing heavy development. Below is a work in progress of the menu, please keep in mind that many things are subject to change.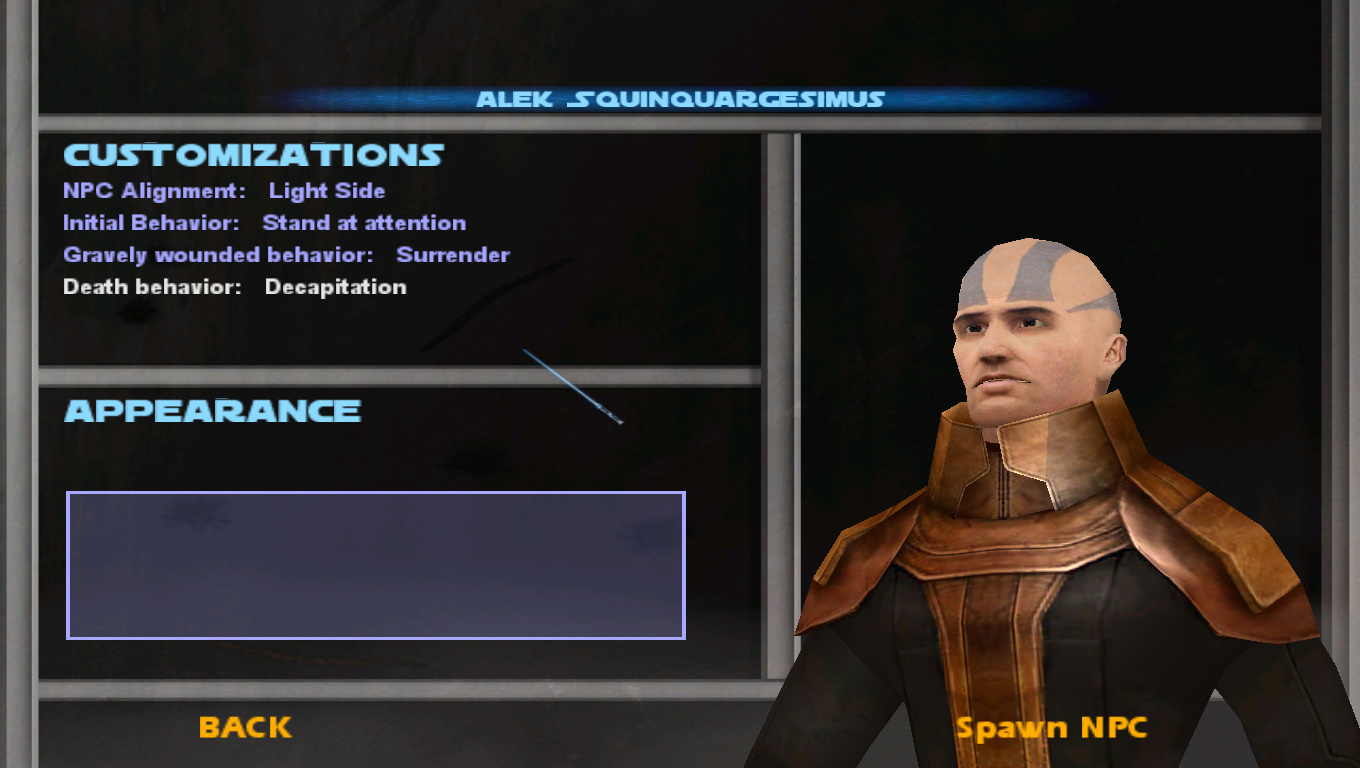 DARKSABER FIXES
The Darksaber when originally released in 2019 was bugged. Attempting to select it in the saber selection menu resulted in a very hilarious bug where the blade was replaced by a bunch of squares. If you want to view this bug for yourself, go into the KotF mod, create an RGB saber of your choosing, then go ingame and type "sabercolor 1 darksaber" in the console, the result will be hilarious.
During development of the lightsaber menu, these code issues were tracked down and fixed, as well as a faulty texture. The darksaber blade is now 100% fully functional and you can freely select it along with any hilt in the mod with no squares attached.
This is the way.
WEAPON OVERHAULS
A member of the team has taken it upon himself to add more versatility to the gunplay in Jedi Academy. This project is still in progress, but the system will allow for you to select a firing type for most rifle-based weapons in the game, allowing you to use special firing types depending on the weapon, such as burst firing, full automatic, and even high-powered single shots. We'll share more details about this as this system continues to be worked on. This feature will likely not make it to the initial release.
CONCLUSION
While this may not seem like a lot, everything accomplished in August were massive milestones leading up to release. The only things remaining are character selection, mission selection, icons, and the NPC menu. I will be working hard after completing the NPC menu to complete Darth Maul's extended ending, and I'm hoping to have it ready for our eventual release. The guarantee right now is that you can look forward to a remastered version of Revan vs. Malak.
Finally, to our fans that use Mac, the coder responsible for the build has recently returned to us. Chances are high that we will be able to provide a Mac build for release.
Thank you all for following the development of Galactic Legacy, and may the Force be with you.