September has been a bit of a slow month, that doesn't mean that nothing got done! We are continuing to gather more musicians in order to use their tracks for this game's sound track. Apart from looking for more people to help, we have discussed many more design changes and methods. We are aiming to have a closed tech demo done by December 20. From there we will continue to create a demo for the public and move on from there. There has also been great progress in terms of art, level design and programming. And there is the main part of the update, an interview!
Concept Art
Robbie, our Lead Artist is once again doing well at sketching characters. Also he has been doing a lot of texture art for surfaces and decoration materials for the level designers to use with their tools. He continues to be a very valuable member of the team combining his artistic talents with his wise and effective design choices.
Modeling
We are currently searching for 3D Modelers/Animators for the characters. Currently, our Environment Artist Andrew Green, is learning how to do some character modeling as seen on the image below. However, we are still seeking more advanced contributors.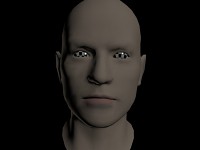 Level Design
Familiar with the Unreal Engine, Lee is currently working on the geometry of his level, using his 3D Max model as a 3D blue print. He has experimented with various textures given by Robbie. Ethan on the other hand is still learning, but there will be a lot to expect from him as time goes on.
Programming
Ivan is still learning UScript but is doing a great job so far. Already he is nearing completion of player movement, and he is moving onto coding other mechanics. At this rate, he'll have all his work done just in time for the closed tech demo.
Interview Time!
Introduce yourself and tell us what you do for Revolution
Eddy: My name is Edward Martins, I am the Associate Producer and Early Concept Artist for Revolution: Genesis.
As Associate Producer, what are your responsibilities and how do you handle them so well?
Eddy: As an Associate Producer, my job is to help organize the game and to make sure everything runs smoothly. I also have some other more specific responsibilities than being Simon's right hand man. Currently, I'm doing two important things for the project. I am contacting various bands, singers and musicians from all walks of life and genres, to have them work with us. With their music I am hoping to compile a soundtrack for our game to make the game feel as real as possible. Right now we are communicating with a number of bands and organizing how we are going to use their audio, images.etc One of my favourite musicians that we've sign has been the Chris Michols Band. They are talented musicians whom have happily given their music to the cause and our first official sign. You can listen to a few of his tracks on chrismichols.com. (enter the url as indiedb has linking problems)
Secondly, we've had some issues finding a 3D modeler and animator. I've been campaigning extensively looking for someone quality, but it has been very hard. I've recently contacted a man who is excellent in 3D, but didn't want to contribute to the project due to work/time.etc, he graciously campaigned for us because he knows a number of talented 3D artists looking for work and to help build their portfolio. Please check out his stuff in thanks for what he has done: Ibrahx.deviantart.com
Finally, as Early Concept Artist, I use my minimal artistic abilities to help come up with the design, look and feel of each character, but I'm slowly being pushed out by Robbie, our 2D Lead. Oh well, he is stuff is exponentially better than mine.
As for handling everything, who says I do? I'd love to put more time and work into what I do. I do a fair amount but not enough to please myself.
How do you feel about the different fields of work within the development team?
Eddy: I feel that the work done by each person is absolutely great. I was one of the first members to join the team if not the first, and I was shocked how fast and how large this project became. We just started to get more and more done, and I was stunned. From the 3D guys, to our artists, everyone we have is absolutely fantastic and great to work with. I was also impressed about how international the team was, and even so, we are working like a machine.
What is it that we can expect to see later on?
Eddy: From my end, some few more drawings could be in the future. What I can guarantee our fans with an amazing soundtrack, and a well-designed, troughly tested and all around amazing game to play, whether it be for a few mintutes or for a few hours. I plan to only aid in the development of a games that I would play. I can guarantee you a great all-around experience.