Following a successful month, August has been a very productive month for every single member on the team. We are starting to work further and we even had the ability to do some actual in game testing! We got some more members, who are very talented just like the others.
Design and Story
For the time being the story is on hold until we complete the mechanics, so we will know exactly what the player can do. In terms of design we have changed some things and we are looking forward to testing the mechanics once the tech demo is done. We are gathering some bands to generously donate their songs to us.
Programming
Ivan, our Lead Programmer has done a super job this month. Not only is his speed for creating mechanics fast, but fixing bugs takes a shorter amount of time! From perfecting grinding to creating a graffiti spraying prototype, Ivan has spent long hours way past bedtime to create polished gameplay.
Level Design
Lee has completed the layout of the city hub/garage level and is working on at adding detail and textures. We tested his level and collisions work great. We are looking forward to seeing his well layed out but plain looking levels transform into a living breathing location! Ethan has been working well with his assigned level as well. Ethan is also doing a great job with his level which is completely different to Lee's. Stephen has been busy but has got a start on another completely unique level. Which means that every level has a unique style and theme, while having an overall tone.
Concept Art
Robbie, our Lead Artist has done so much this month. Not only more pleasing coloured images, but also promotional posters, 3 view images for modelers, textures, GUI...its what made us progress so fast! His contribution is outstanding and everyone else on the team is very impressed with all the effort he puts into his images in so little time. At the moment he is healing from a work accident, may his hands heal so we can see more pleasing art! Anton is also doing a top job with very detailed and colourful character images.
Environment Art
Andrew Green, our new Environment Artist is learning from Robbie, but still doing a great job. All he needs is one image of a level and he's off. Labelling different sections with what surfaces and textures to put on. He also does artwork for graffiti tags, which will be a pleasure to spray on the walls in game. In addition, he is helping with some modeling.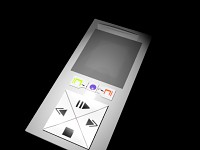 Sound Design
As always, Paul does his best to provide polished and cinematic sounds. Now he is also providing music phrases. As our only sound designer, Paul is the only one we need at the moment, he is just great.
Interview Time!
This month I did not interview one, but TWO of my loyal team members. Firstly, our lead programmer Ivan:
Tell us about yourself and what you do for Revolution.
Ivan: My name is Ivan Kozlovskih, I'm 17 years old. I'm Lead Programmer in Revolution development team. I started as an enthusiastic programmer, coding for fun and etc, and this is my first serious job.

What kind of challenges do you face as a lead programmer and how do you overcome them?
Ivan: Mostly challenges are based on creating mechanics that will give player more freedom, like sandbox grinding, allowing you to grind not the places marked by designers, but the ones you could grind on in real, daily life. The only method of overcoming those challenges for me is thinking of a new ways, or using what we have at a different, new level.
What motivates you to work on this particular project?
Ivan: Gaining experience, and a will to help people. Everyone is passionate about finishing the project, just as me. I want to finish this project, so that someday the game would be shipped. Optionally, some money in the end wouldn't hurt.

What can we expect you to have finished after the next month?
Ivan: The problem is that the school starts for me, so my tempos can be lowered. However, after the next month i hope to: add air trick system, combo meter, and either to continue expanding player controls, or start working on AI, adding enemies, etc.
Ivan is our only programmer, but he is pretty good at his job!
And Robbie Cole, our Lead Artist:

Introduce yourself, and state your contribution to Revolution.
Robert: I am Francis Cole the guy who handles the "artistic" part of the game to keep things simple.
How does it feel to have a responsive team?
Robert: It's cool to be part of such an open, communicative team... most these groups end up being a soapbox for whoever came up with the concept to get their personal message out there. This team actually functions as a team, i get everyone's input regardless of there personal assignment, which matters more when it comes to making this game universal.
What do you like best about Revolution?
Robert: The main reason I stopped doing production work for others was because you're always stuck with concept the guy with the money wants. Doesn't matter if it's horrible and you know it will fail, you do what you're paid to do, keep your mouth shut. A project like this where you are free to create what you want to create, create what other really want you to create, you actually come up with a project that could never be matched with a million dollar budget. It's why franchises fail, artist are entertainers first, at least if they want to be successful. So what I like best is we focus on entertaining the game fans, not entertaining a producers selling point.
What do you expect to accomplish by the time the next monthly update is due?
Robert: By next month... personally want all the prologue character concepts out... enough textures to come out with fully textured screenshots, "we can perfect textures as we go, just something to display". Would like to find a generic poser model we can throw in as a test character, but that more a 3d team thing…I'm gonna see what I can do with blender!
As you can see, he is offering to do a lot of work and he is pleased to be on the team.
Conclusion
As you might have seen, we switched to UDK, however, this sudden change did not affect our progress so far. Our level designers are using their 3D Max models as 3D blue prints for when they use BSP in UDK! How smart! We now have more control and get to do more with UDK, which ensures that we made the right decision to change engines.
Over the next month we will release some new in-game screen shots showing the beauty of UDK brighten up our project. Please continue to track for updates as we get closer to completing our tech demo. If you have any suggestions, post on the forums.