Hey people! It's Monday again!
This week will pretty much be known as this mods RED WEEK, and I don't mean the timetabling kind of red week.
Rather than get very very far into the mods production come close to a release and then have Treasure.inc pressuring us to stop what we are doing and threaten possible lawsuits against me or my team. Also purely out of respect for the creators, I have sent a long email requesting the use of their intellectual property "Gunstar Heroes" and also apologised to them for not saying about this mod sooner.
So basically this coming week will more than likely decide whether the mod continues to chug along and give you all a new window into an old memory, or if the team is forced to think up something else to work on, or regrettably disband and go our separate ways.
Id rather not go through the pain of having worked on something so diligently and then have it stood on in its final stages. I did express that it is fan fiction and not for sale/rent. So hopefully we will get a pleasant response and we will be allowed to continue on with this work.
Progress Report
This week is Rukifellth has been drawing a few things in his spare time for the mod, amongst all the piles of university work that he is under, lol welcome to the grind! Ok so let's take a look.
Background Info
In GHR Professor Black is not part of the empire anymore, he broke off and formed his own organisation "Pitch Black", in which he takes a more underhanded technological approach to world domination.
Concepts
First is a Design for Professor Black based heavily on his sprite from the original game, only now he has got a cane to make himself look important and independent?
And next to him we have the only other character in the original that didn't have a colour name for himself, the un-killable stretch Armstrong, its Smash Daisaku! *crowd goes wild*
Smash Daisaku was the man directly beneath the late General Grey, and as the General is now floating in space somewhere courtesy of Goldensilver back in 1993, Smash is now the Leader of the Empire forces in the mod, and if you thought the first wave was bad enough, this insane man has beefed up the ranks of his robotic minion army with deadlier tech than seen previously.
Professor Black and Smash Daisaku
Next up we have a design for Blacks Boss form, its based from both the "Black Fly" his last boss form in 1993 and the first boss form (which i have forgotten the name of :P) this design will be different to this in the final result, but its good to have ideas going around all the time until I nail what im after.
Black Widow
This is next image is one of Blacks mechanical menaces, responsible for the kidnapping of Professor Theo White, The Black Hexamarine will be an agile and powerful opponent to face, able to jump and hang almost anywhere, they are essentially robot ninja.
Black Hexamarine
Black isn't the only one that's got some new toys to play with, presenting the first design of the Direct Ground Assault Drone, referred to in the script as simply DGAD, they are very dangerous machines with firepower sacred to their namesake, DIRECT, they will go through anything to get you and bring you down, their weapons consist mostly of APAP-B launchers (All Purpose Armour Piercing - Bazooka) however are also seen carrying Railguns, Flame Throwers, Gatling laser cannons and heavy Autocannons. They stand only a foot taller than the near mindless miner drone, but are endlessly more deadly.
Direct Ground Assault Drone (DGAD)
Last was just something Ruki did to try and visualise the mission where you fight Professor Black, that all ended horribly wrong XD.
He drew this short comic strip to rip off a scene out of episode of the Street fighter cartoon (or movie :/ ) because of Smash Daisakus obvious reference to MBison. Then I reminded him that Proffessor Black is not part of the empire in GHR, so Smash Daisaku wouldnt be there to start with, also Proffessor Black in the comic is holding the Chaser Gem saying "guess you wont be needing this gem i found for you", and in the original game he was the holder of the Fire Gem, he is currently holding the Chaser Gem which now looks like this
Alioto

, Chaser Gem incarnation
so that was also, hopelessly wrong. Telling him all this on msn he responded with simply
Rukifellth: "...DOH"
Small bit of modelling stuff next, besides Gunstar Heroes there was also another game that I loved to play, it was called "Empire of Steel" or "Steel Empire" outside Europe, for fun Ii thought I could incorporate something from that game into this one, as a flying enemy. Here is the original art for the "Striker" aircraft, taken from the box art.
With most of my current skill level in Maya i had been working hard to recreate this plane in 3D, 7 hours in this is the result I have so far.
Front Left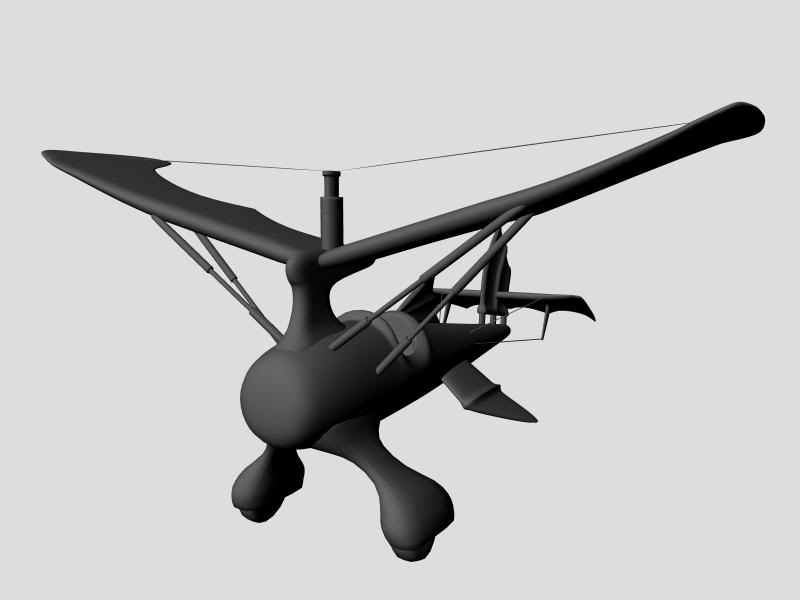 Top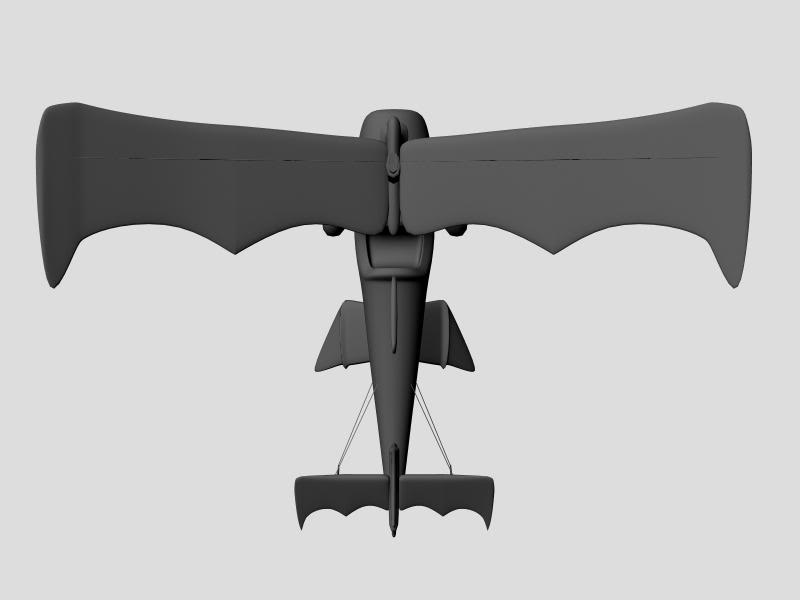 Rear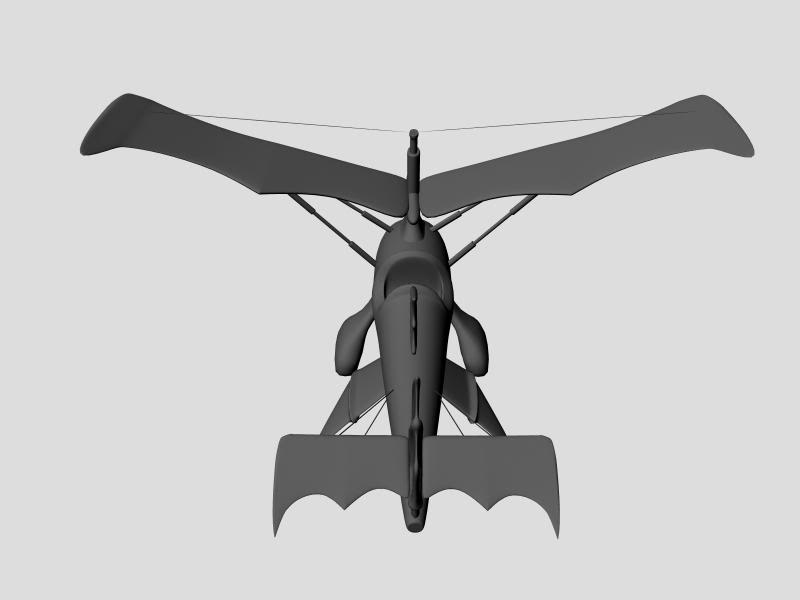 Back Right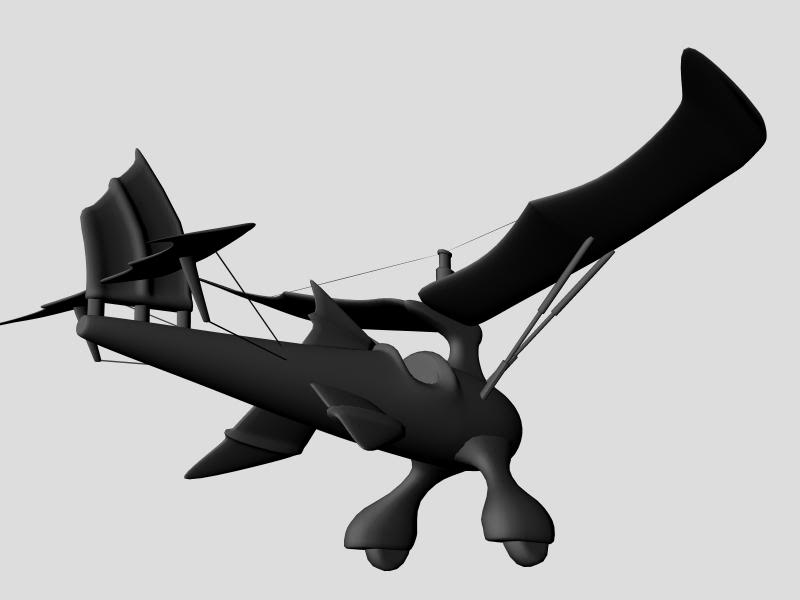 Should enemy commanders (DGAD / IGAD) call for back up an airstrike will sweep the screen, so you better watch out! Just another window into the past for you all out there. What do you think? That concludes this week's progress report.
Help needed
Hey hey, this is our weekly yodle for Unreal Mappers, we still need help in this respect, no maps no mod :) i am slowly getting the hang of making... boxes, in unreal editor, still along way off from anything decent tho.
If you know an unreal mapper that has had any experience in making maps in any of the unreal editors, give them a nudge and let them know we need help. Thanks people, come back next week for "hopefully" more.
If Treasure.inc do decide to step in and we stop this mod, we will of course let you know as soon as we know.
Until then keep supporting us! hope to see you all again next Monday!