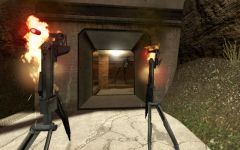 Today we get to bring you some exciting news: Mod Fidelity is teaming up with Podcast 17 to present a contest in which you can win one of three copies of Half-Life 2: Episode Two!
As a part of this same contest, Mod Fidelity will also be putting in three brand new, community chosen modules into the game!
But how do these two things relate? Well, pull a chair – and I'll give you all the gory details.
The Setup
We have set up a forum on Mod DB specifically for this contest. Whether or not you already own Episode Two, go visit the forums and start posting your best module ideas! The possibilities are endless! Here is an example of an actual modules we've put into the game: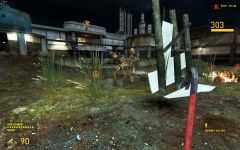 Brute Force. Active module. Increase melee damage by 25...175%. For every kill made with a melee weapon, all weapon damage will increase by 5% for 7…15 seconds.
Plague. Passive module. Touch target to infect them. The target will slowly in a matter of 120…30 seconds (if they do not heal). Infected Players and monsters will spread the plague. Plague can only truly be stopped by killing the original player.
Like we said before, the possibilities are endless! We want everyone who has ever an idea for a mod or a feature or just anything to make a post! We, as the developers, will be watching this forum closely and posting our feedback! But this is only step one!
How to Enter the Contest
The entries are only open to people who do not open Episode Two! We will be gifting the prize via Steam, so if it is found that you already own Episode Two – the prize will go to the next one person in line. That being said, this is how you enter the contest. You will send an email to modfidelity@gmail.com with the following details:
Subject: Contest Entry
First and last name
SteamID (the username you log in with, but NOT the password!)
First module suggestion
Second module suggestion
Third module suggestion (in order of preference!)
Most of that should be pretty straight forward – but three module suggestions?! Let me explain:
Applicants will be looking at the new contest forum we will be setting up – looking for ideas for their application as they are allowed to either make up their module – or choose a few from the forums!
That's right, any idea suggested can be used for the contest! But it's a first come, first serve basis! If someone suggests a module before you do – then they will get to use that idea and one of your module suggestions will be null and void.
Why Three Modules?
We want you to send us your application with three module suggestions because we will be going through each entry and selecting which one we think is the best suggestion. We will then email you back, confirming your entry and what module we've selected to be your entry. Applications are open for one week – starting now!
Applications will not be accepted after July 21, 2009!
Once the application process is done – this is where the community is going to get involved! We will be throwing up a voting station on the Podcast 17 website for you to vote for your favorite module! Anyone and everyone will be able to vote for their favorite module. The top three modules being voted for, after one week, will be the winner!
Winners Announced on Live Broadcast of Podcast 17
We will be on-air with Podcast 17 on July 26, 2009 to announce the winners of the games and what modules we will be putting into the game!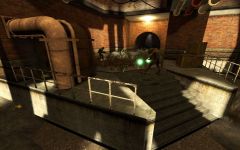 We appreciate the fact that the prize for this contest isn't suitable for every player - but that's why we want you to go and suggest module ideas! We at Mod Fidelity have always been proud of the fact that we listen to our players and often put their suggestions in our game! Even if you already own Episode Two, this is a GREAT OPPORTUNITY to get your module idea into Modular Combat even faster!
Players who want to enter the contest are free to select ideas from this new forum as they please. If one of them thinks that your module idea might win them the contest, then they can submit it - and you can vote for it!
Why are you doing this?
We recognize that some players aren't going to be play the new version of Modular Combat as it will require Episode Two. To be frank, that sucks. We are running this contest to give the players who love our mod an opportunity to continue playing - and to put some modules ingame that everyone wants and will enjoy.
See you on the forums!
Thanks again for playing Modular Combat and being a part of our community!
The Mod Fidelity Team
Follow us on:





(Special thanks to the Overgrowth team and Iiro Jäppinen for providing these nice icons!)