It's that time of the year again. It's time to look back and recap the year that's nearing an end. The 2009 Mod Awards are starting up their nominations and we would like YOUR vote.
2009 has been a year of much turbulence, for us. The rate of development has declined, slowed to a complete stop, been revived and is continuing to increase. New staff members have joined our team whilst the ES veterans have moved on in their lives (sometimes as far as Indonesia).
While 2009 hasn't been a year of development at breakneck speed, it is important to remember that 2009 was the year that Eternal Silence went live on steam, bringing thousands of fresh recruits into the struggle between the Neo-Galactic Militia and the United Terran forces. Being distributed through steam is a major achievement and reward for 9 years of solid effort.
Many people have put an incredible amount of work into bringing you this game. If you've ever experienced the hectic, epic struggles for space superiority or the frantic rush to capture the shields, please nominate Eternal Silence for the mod awards.
We feel that Eternal Silence IS the mod of the year and that the veteran staff deserves this pat on the shoulder to send them off.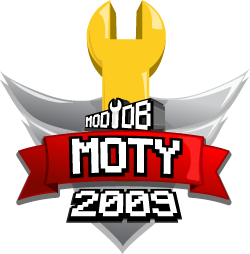 MeatPopsicle from the forums has even made a cool motivational video. Check it out:
Regardless of the outcome, we'll keep on working on this epic game we all love. We'll be posting some juicy updates soon :)