Mod Progress:
With the last beta from december, I "finished" the mai factions and the core of the mod leaving me more time to focus on fun ideas designed to bring Alagaësia to live and to better represent the poeple from the books. HOwever school and a small addiction to MMORPG have considerably slowed down progress. Whtiht schol being a bit lighter , I have decided toresume working on the mod.
What's Next?

The next beat will mostly focus on parts on the gameplay which involve interractions between players through other means than fighting, i.e. neutral buildings. I never liked the wa the inn and dock systems worked in ROTWK, it was strange that only one type of person would stay at an inn or that all people of the same affiliation would use the same boats. To change that, the first focus will be a completly new Inn system and later on individual navy for each factions.
The New Inn System:
The idea behind this new system is that in an inn you will find many kinds of poeple from throughout the world with some of the behing willing to help you in your war. In game terms, this eans that you ca say good bye to one inn-unit per faction, instead, each faction now gets 3 possible sources of allies, two shared with other factions and one specific to it. Each of these mini-factions contains three ranks of units : standart, elite and leader. The more advance is you alliance the more powerful units you get. Moreover if standart units are taken from the orginal faction of the group, elites and leader are entirely new units. As a short preview, here is the Varden inn and some of their allies: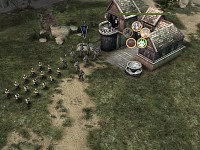 Finally , I would like to include new maps in the future version, but I have little time (and little skill :) ) for map making so if anyone is willing to help, I would welcome any assistance.