Whazam. In contra-position to the statement the other day about a pending lack of posts, I thought I'd first update everyone to quench your thirsts for zombie blood.
First I'm acknowledging our new level designer Gregster101 who has been on the team for a very short time but has already completed a map, and has come up with some cool temporary solutions to a bunch of problems. Here is his first map Hospital: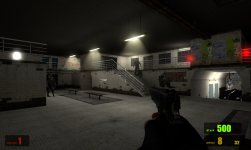 A lot of playtesting has been happening here, I think Gregster and his brother managed to get beyond round 20 at one point. Here are a couple of screenshots of Station 6 as well.
I apologise for not removing the viewmodels :P Gotta be at a lecture soon. Be sure to check out the gameplay video below, remember it is not representative of the mod in its current state but is an update to what has been previously posted.
Expect much more now that we got our motivation back.