Welcome to Milestone Update #4!
We come to you with another chapter of the story of Naruto Naiteki Kensei. Our previous milestone update gave us a glimpse of when we first went public. This next chapter explains a key element that was implemented, setting into motion the creation of a dynamic and diverse gameplay experience: Melee.
---
Chapter 4: The 1st Great Milestone in Gameplay, Melee
The first time NNK was revealed to the public we experienced something we weren't prepared for. Almost overnight our boards will filled with fans and prospective developers looking to join our ranks. It was sudden, unexpected, and surprising! We thought that at best we would have a handful of fans who followed our project. We expected to have a lot of skeptics on our forums referencing multiple other Naruto projects that had seemingly started out well and soon after died. It was one of the best feelings in the world to know that right off the bat so many people believed in us. And it gave us a huge motivation boost to move forward!
Some of the developers who joined our project were;
GodGundam - 3D Modeler/Animator/Rigger for ESF
Enix - 3D Modeler/2D artist
Keiha - Animator
Tim N - Music Composer
Roach - Level Designer
GodGundam was a long time friend of many current developers from the ESF team members. When joining the team he did some of his best work rigging, animating, and other art the project required.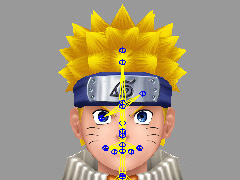 Enix had been a friend of the team for a long time. He joined the community but refrained from taking part in the project. Soon after he created an exceptional Rock Lee model. Eventually he was accepted into NNK.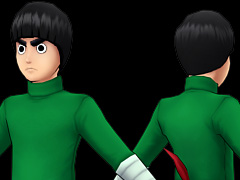 Keiha was a friend of Kama who had been trying animation for some time. Keiha showed potential, and was accepeted into the team to increase animation productivity.
Tim was urged by Tryforce to join. Previously Tim had been the music composer for Spirit of Konoha, a Half-Life 1 modification converted to Half-Life 2. When Tim came to us he was working on Ashura: Dark Reign. He impressed the team with his exceptional talent and a style that closely matched the NNK feeling. Here's a sample of what this guy can do.
Roach was also a friend of Kama, who worked with him on DragonmodZ. He came aboard to help design more environments to play in.
Much of our progress during this time can be found in our old Friday Updates located below:
Development of the mod moved along quickly. Unfortunately team members became distracted, progress began slowing down, and the project wasn't moving as quickly as planned. Only a few developers were consistent with any progress. Some also left the project or went missing:
Sandstorm/Sakura
Tryforce
Lord Killmore
Andy011
Sven Da Man
One of the biggest issues NNK faced was the pace of it's coding. In an effort to get NNK back on track kong went out and scouted for additional programmers who could help. The following who contributed briefly increased our productivity and morale:
Compwhiz797 - Exploding tags and Kawarimi jutsu
Nightz - Very early dashing system, later was recoded
Navanax - Very early Kage Bunshin system, later was recoded
SSJason - Very early targetting system, later was recoded
Crono5788 - Very early attempt at melee that didn't fit with our gameplay
*Much thanks to these guys for helping us during their time with us*
Ryokeen, however, kept chugging away, and was implementing much to the project. During this time, Raven, ESF's coder, helped us get our mod project setup as well. Here are a few old WIP screenshots:
SV was finding ways to greatly improve our trees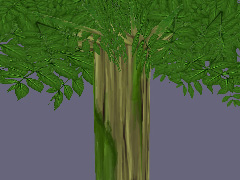 Also, Ready was working diligently at modeling and mapping
At the time, everyone felt this was just another project we were doing on our free time. But that view changed with the arrival of GlassShine.
Formerly known as LunarWolfX by a few, especially from the Naruto Role-Play community as he programmed the AMXMOD addon for The Specialists. GlassShine initially refused to join NNK because of his lack of experience and skill in programming. Months later after he had finished a semester of programming in college, Glass joined the project.
The first task Glass tackled was the melee system in NNK. It was a very simple system on paper. But when it was implemented we couldn't help but feel excited at the project's potential. The simplicity of the system was there while mixing in all the other systems such as weapons and jutsu combos. The team knew this wasn't just any ordinary project - this mod was going to be big! Here's a video of our never-before-seen melee teaser, created by SV during the initial development of the system.
(very old melee trailer)
Through the dynamic duo of Ryokeen and GlassShine, NNK's code began to progress at a very steady speed. Weapons were finally starting to shape up, the Character Select Screen was starting to work. Kage Bunshin was coming into focus, the dashing and dodging system were getting coded in. It seemed like NNK could finish and release in a short amount of time!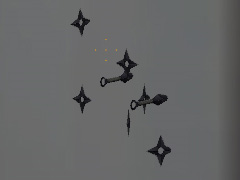 This sparked the great vision of what NNK would eventually become. The team was very excited! SV helped set a standard of quality for the project. Things were getting improved, tweaked, and reworked to meet our vision. NNK was reaching new heights!
---
This was only the beginning of the Golden Age of progress for NNK!
Next Week! Chapter 5: NNK's Golden Age and the Low Point
- NNK Team