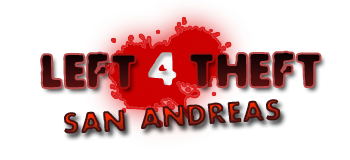 There are some things I'd like to share with you guys. I'd like to explain why there haven't been any updates lately and I'd also want to answer some questions you have been asking.
First of all, the updates. To be honest, I haven't made any progress lately on the mod, I'm currently pretty busy with college and I really have to focus on that before working on Left 4 Theft again. I will try to do some work in my spare time but I don't think we'll release version 4.0 this Spring. There is still a lot of work to do and there is just too little time. Think about somewhere in August for the release.
Second thing, the ModDB page here is a bit being flooded with questions about all kind of things. Here's a little list with some information that may answer your question:
Melee weapons will be added in version 4.0, they can be bought from item dealers in the free mode and in the menu in the survival mode.
If you experience crashes after Sweet left you in the free mode, make sure you have the scm500k.asi file in your San Andreas directory and your anti-virus program doesn't block it!
I'm aware of the crash with time travelling, I've got some more information on it now so I'll try to solve it this time.
You can install other mods along with L4T, but only if it are mods which only modify things like models and textures. For example, car mods and weapon packs. CLEO mods can work, but I don't assure it will work correctly and without crashes.
If subtitles don't work, make sure your language is set to English in-game.
If you experience extreme lag or flickering buildings and such, make sure you have version 3.1 instead of 3.0.
To uninstall Left 4 Theft, make a backup of your original San Andreas directory before installing the mod and restore it when you want to uninstall L4T.
I might make a FAQ with more answers sometime soon. If you have another question, post it here on this article or on the L4T ModDB page.
That was about it for this time, hope you guys understand my circumstances and are still interested in the mod. Thanks for all the support!