What started as a half-baked Game Make experiment with minimal knowledge of any serious GML scripting, resulted in a combination of Robokill's top-down shooting carnage and Knytt Stories' level editing and story creation.
The funny thing is that I don't like top-down shooters. I don't play top-down shooters. But for a game creator, making a game that belongs to a specific genre, and playing games of that genre can be two different realities.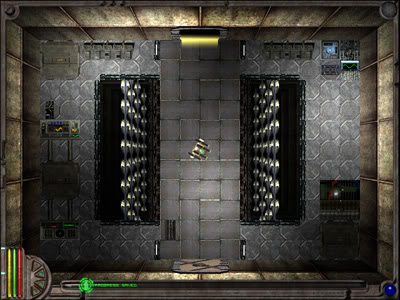 Just how tall is everything in this room? Damn you, top-down shooters!
A very short preview of the game could be the following:
"Navigate yourself through massive levels consisting of sci-fi themed installations and outdoors areas. Try to stay alive, collect or buy a wide variety of weapons and auxiliary items, and defeat powerful enemies."
Yeah. So what. Can you even count how many games out there, decent or not, fit this description? Oooh, not enough digits, huh?
What makes this game more interesting than the generic "shoot to kill, think to live" concept is the fact that what you will play when you run it for the first time, the tutorial level and the main "world", called A Dormant Menace, because I suck at making up titles which don't resemble a Star Wars movie, are made in a level editor. And this level editor is packaged within the game files as a separate program, well-documented, and ready for any of you out there willing to create your own adventures. As mentioned above, much like in Knytt Stories' level editor (those two games share nothing else in common), players can create a world, add their own cutscenes and custom music, build their own levels, specify each level's objectives and script their own events.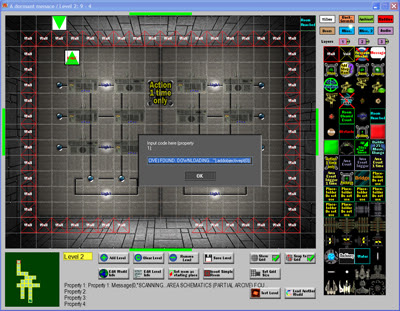 In the editor, although every Metal-Venture specific command is
documented, many object property fields can accept any GML
(Game Maker's scripting language) code.
So, it's not just all about the main game's world. A Dormant Menace was created merely to show the editor's capabilities of putting together a coherent story, with cutscenes between levels, where every room can be a battlefield, or a place for riddles, challenges and maybe plot twists. Try it yourself, post your creations and questions at Metalventure.forumotion.net , and become a part of a (hopefully) large community discussing game creation and anything else you like.