So Brian has been hard at work on a stand-alone install version of Metal Drift. This version can run independently of Steam and will be additionally releasing on Desura, Direct 2 Drive and Gamers Gate! All four communities will be able to play together with the new version. We're looking forward to seeing the new surge of activity on the servers.
[ppbranchg11978button]
With the new build he added some back end goodies…uh…here they are:
New account system -allows players to play each other on any PC platform.
New Master Server - faster, more reliable with more accurate player counts.
New East Coast and European dedicated servers. (These are up now!)
New Tank Skins! Now you'll get a brand new skin when you hit level 20 and another at level 40! There is also a new skin for our devoted community members (the VIP skin). So if you see a black tank driving around, it's either one of us, or our awesome community leaders…they are to be feared! Lastly we made a one-off skin for our all time champion player, and extremely dedicated community member 'Drakon'. We re-enabled the Steam achievement involving killing him a number of times in one match…this is how we treat the people we love. Now you'll have no doubt who you're supposed to kill relentlessly.
New skins: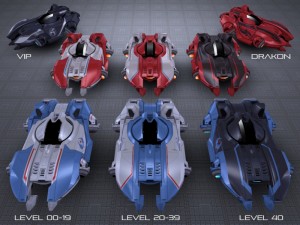 And here's a video showing them off in-game:
Brian took care of some pesky bugs as well:The player counts on the servers are accurate now. There was an issue with the Steam servers, but now that we're running independently, the number of people you see on the server list is actually correct.
Weapon bonus damage was corrected.
The Drakon achievement on Steam is fixed and re-activated.
The ball doesn't collide with the boost tunnels, goals and repair pads any more. So passing and throwing the ball ahead of you on a boost run should be much smoother.
The boost colors on the team fake pack are correct. So it should be easier to fool the other team into believing you're one of them.
Some miscellaneous additions:
Added some subtle cockpit glass. Feels like you've got a windshield now.
We reduced the number of human players you need in a game for stats to be recorded from 6 to 4.
I hope you'll all join us for some super 'splody action packed carnage!! Brian and I are jumping in at 6pm PST nightly. -Weston