Metal Drift Tournament
Starting next week, we'll be hosting the first Metal Drift community Tournament! The Metal Drift community has been refining it's skills and tightening strategies. It's time to formally determine who's the best of the best! For this first tournament there are four teams competing. Our new community manager, William Scott "wiweeyum" Sheppard put together these great team logos for them...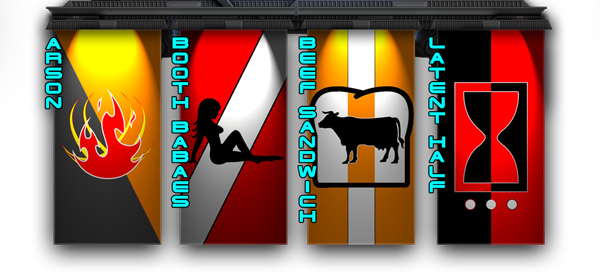 Each team consists of four players, making 16 total. These are a mix of veteran community member and some new comers, so I'm stoked to see who wins!
ARSON:
-LittleBoyBlue
-ChampBob
-EthylPerchlorate/Weatherman
-SlamScape
Our first team "Arson" is led by "LittleBoyBlue", one of our most dedicated, and long time veteran community managers. He's supported by two other veterans, "ChampBob" and "SlamScape." Rounding out the group is the skilled and deadly "EthylPerclorate!" This team will be hard to beat.
The Booth Babes:
-Drakon
-JCade/Sim47
-DRY2010ICE
-Royt1988
The second team "The Booth Babes" is led by our top community manager, "Drakon". He is hands down the best defender in the game, consistently decimating all with his plasma cannon skills. In short, he is the drift king (DK for short). He's backed up by "Royt1988″, the number two record holder, the prince of drift domination!! Also on board are "JCade" and "DRY2010ICE", both of whom have layed me to waste on multiple occasions. I quake in their presence.
Beef Sandwich:
-Electronaut
-Wiweeyum
-BeefThief
-dogface57
Third is my team, led by the infamous "BeefThief", one of our elite community managers, and frequent ass kicker. Also on our team is the creator of all the great Tournament art in this post, "Wiweeyum". He's new to the game, but he's taken it on with some amazing drive and energy. He's also the "Host" of Metal Drift TV! "Dogface57″ is our frequent match host, and skilled drifter. I'm "Electronaut", and I'm just happy to be part of the sandwich! Can you handle the Beef Sandwich!!?
Latent Half:
-Rhylos
-Tigerhawk71
-eshin_seer
-LOC
Team "Latent Half" is our team from Down Under. They're so bad ass, they're taking the rest of us on with a huge ping (hence the name). I'm glad they're joining in, it should be awesome! I've been wiped out by high ping players enough times to fear these guys.

The Lineup for Drift Supremacy!
"Drakon", "Beefthief", and "LittleBoyBlue" have put together the details for the tournament including the match lineup. See it here: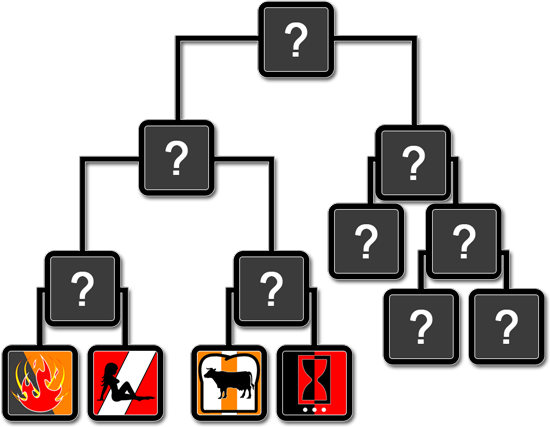 Game 1:
ARSON vs. The Booth Babes
Game 2:
Beef Sandwich vs. Latent Half
How do I watch?!
We'll be playing the tournament as a double elimination. The first two games will be scheduled between this Friday, June 25th. and Friday, July 2nd. Sadly, there is not a spectator mode built into the game, so watching it live isn't possible. But each match will be recorded and hosted on on our YouTube channel Metal Drift TV! We'll keep you posted on dates of the matches and the results of each.

Finally, every match will be announced live on Twitter, so come follow the progress! For all the official rules, come read the Tournament Thread.
Thanks to "Wiweeyum" "Drakon" "LittleBoyBlue" and "Beefthief" for organizing the event. I look forward to many more to come!
Weston (Electronaut)