Welcome again, Mercenaries!
Today we bring you a new update for Mercs: Shadow of War.
Firstly, we want to apologize for the update delay, as you know we have no budget for this project neither a meeting and working place as we are not an official company yet. That caused the delay trying to fix a gamebreaking bug in todays update. It's finally fixed and we hope you enjoy it!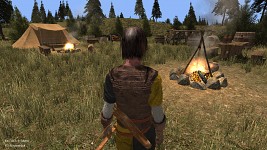 You will find the new features, game controls and acknowledged bugs soon.(We got to many bugs we need to fix and we go to fix)
In Steam we talked about picking up, rotating and moving objects, it's done, but not yet implemented.
To-do next:
- Picking up, rotate and drop objects system.
- Weapon select system.
- Improve archery (ammunition limit, arrow recovery and physics)
- Melee system.
October's To-Do list:
- Basic multiplayer.
-MercHand-