Median XL 1.E9 is out!
This patch features the following changes over 1.A9c: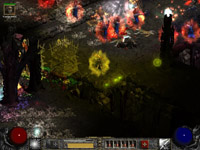 Hearken ye
To meet the most common request about Median, several new challenges have been added to the game, many aimed at Terror difficulty. Kill veteran monsters, dodge witches Left4Dead style or shatter the stained glass windows in Hell for a prize.
The nephalem in you
The barbarian skill tree has been revised: stances have been consolidated and the fan favourite Earthquake skill returns. Other skill trees have been touched as well.
L00T
Item balance changes make two-handed weapons more competitive, and some of the weaker uniques and base weapon types have been boosted as well.
Mod of the Year?
Median XL has passed the first voting round and made it into the MOTY 2009 Top 100! This is already a tremendous success considering the mod pool is over 10,000.
But it does not have to end here: judging by the current mod rank (#5-20), the final top 5 is within reach if you contribute with your vote!