Median XL 1.A9c is out!
This patch features the following changes over 1.99d:
New skills
Some useless skills have been replaced with other skills. The sorceress in particular is now finally worth playing and the amazon has a new main build.


Dragon's eggs
You may find these on the ground in Act 2 and Act 3 overground areas. Break an egg, kill the Baalspawn dragon that emerges and use a specific item reroll cube recipe for free for 30 seconds!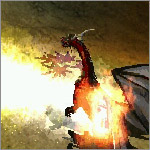 More runewords
That's 60 new runewords to fill the gaps in the runeword progression.
Torajian great runes
Due to the success of the Fauztinville great runes, 3 more have been implemented, which drop only in the Toraja uberlevel. That's the one where you fight alongside the Edyrem and need their help to kill the monsters. You may need special tactics to actually farm this level.



Improved superunique bosses
Most superuniques starting in mid-Act 1 are now based on elite monsters. Just when you thought it was safe... elite bosses.
Balance improvements
Many skills, items and monsters were rebalanced.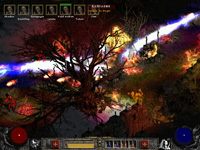 73 minions. In its own way, that's balanced.
Realm wipe!
The official (d2maniacs) realm starts a new ladder season!
Download now at Mods by Laz! (SITE MOVED)

Notice: some of your items may end up with lower stats or different skills on them. This is not an intentional change, but a side-effect of the braindead way Diablo 2 handles legacy items when their stats change. There exists a recipe to update the most important items.