Media Update - 4: Cel Shader, Stuff and Delay
This is one of the last news items featuring new screenshots from the game. So don't waste time and get to the point immediately:
I wanna thank skippin for the new and working cel shader being implemented in Desolated. This one is really new, because we just didn't managed it to get Junkguys cel shader to work. But shots say more than a thousand words, so here we go:
Well, the following shot also introduces the new hero Dave, fully skinned and with some mesh changes to make him more human, not like the doom-guy... it's the same model, though!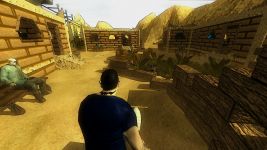 Over here you see a shot featuring the finished (so far) weaponry of the mod so have a look:

Last but not least: I'm sorry, that there's no trailer yet. Cause still I got some really issues with the new mainboard, which was delivered broken so till I get the new one work just goes on slow. I hope you don't mind, cause actually this mod should be nearly done by now. The following delay is not up to me, but now matter what's gonna happen, I hope to present you the mod till the next two or three months.
Before I forget; a little thanks (or a huge one) to DonBot who is giving his voice to some quest-npcs, but still we're looking for some voice-actors. So if you got a microphone home and your English is well, then you could help us with just some lines. If you wanna apply, just write me a PM and I'll answer as soon as possible!
Dave
PS: Still the trailer is coming within the next two weeks if everything went just a bit as planned.