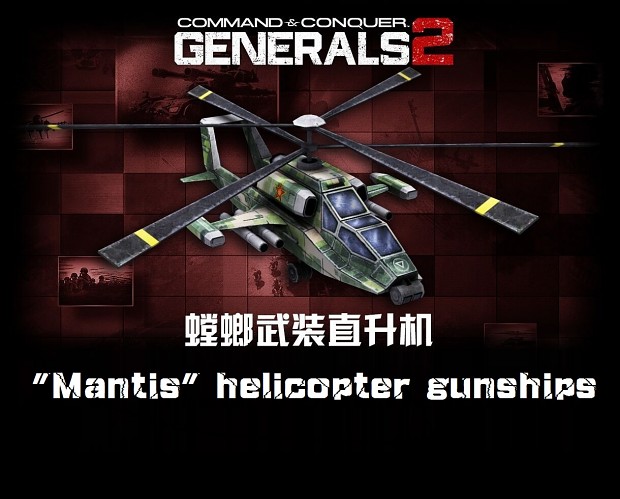 "Mantis" helicopter gunships
APA new generation of helicopters nicknamed mantis, is a medium-to-ground attack helicopters.
The basic weapons for the next four wing mount points, two 25MM rapid-fire cannon. Two-seat cockpit, a pilot and a weapons officer manipulation.
Design History
Prototype "Mantis" This project is the new millennium began research and development project, including the famous fighters, including MiG 1.44 Sino-Russian strategic partnership of military cooperation projects. Under the terms of Shanghai Alliance Organization (SAO), and Russia and the Central Asian countries have preferential access to the machine.
But did not last long, the first global war on terror slowed the development of new weapons, speed, lack of progress in the war four years project that PLA Naval Air Force of the Army Air Corps had to Ka-25/27 "snail" anti-submarine helicopter transport converted into a gunship put into use.
After the war, Russia decided to increase the intensity of the development of advanced armed helicopter program. The project ultimately by Kamov, Mil Design Bureau and Changhe Aircraft Industry Corporation and Harbin Aircraft Manufacturing Corporation jointly responsible for research and development. Karimov used their classic coaxial contra-rotating propeller, so that no tail rotor design as possible. China in particular is receiving technical support from Eurocopter, including avionics systems and human-computer interaction (which is its cockpit and "Tiger" helicopter so similar reasons)
Production and equipment
Advanced helicopters in 2016 finally put into mass production project in Russia given nickname is "mantis" and sold under license to third countries Jieke Russia, especially the BRIC countries. Russia and Moscow Arseniev production; China is Harbin, Jiangxi Jingdezhen.
After the 2021 Pacific Alliance this organization was founded, "Mantis" as part of a military cooperation agreement between Vietnam and Korean equipment to the Federal Army Air Corps. Currently the CIS countries, including Russia army equipment, including the 89, PLA army aviation is nearly 300, Vietnam and Korea are each 40. Also PLA peacekeepers overseas counter-terrorism operations in 2022 also sent nearly 30 "Mantis"
Weapons configuration
25MM rapid-fire cannon belly main weapon for the next two-door hanging on, and produced by China; CIS countries mostly chosen head 30MM cannon-based weapons equipment.
A total of four hanging wing next point, double-tank missiles can be mounted rack, rocket gun nest with additional components.
Chinese-made components 30MM Gatling gun is the most commonly used, such components have been combined collimator helmet, the bracket can be 360 ​​degrees at the target, and comes with an infrared detector, expose the GLA fine camouflage.
China's military is a common configuration two inner mount point to mount a total of four anti-tank missiles, and then the two outer mounted Gatling gun hanging point.
Participated in battles
2020 Ukraine, Russia and Belarus to continue the war in the use of the "Mantis" as a deterrent to protect the Donetsk region and the Crimea, did not participate directly in the conflict.
2022 Chinese peacekeepers stationed in Africa (nicknamed the "second expeditionary force") at the time of South Sudan and East African Federation's forces attacked positions GLA spent "Mantis" as a cover for the ground forces. According to GLA published online video display, the latest electronic interference component "Mantis" equipment has been effective interference "Stinger" anti-aircraft missiles.