Hello everyone!

We've just published our latest Major update, V0.10, and we also have some news about Besiege's Development.

Basically, we have begun the process of expanding the game's development team.

Introducing the new members of the team to the project will take time and may see the content of updates diminish slightly as we get them situated. For this we apologise. There's a lot of organisational stuff we've got to sort out related to this and it's something we've never done before.

In the short term we will be moving to a monthly update schedule to allow us the flexibility we need for dealing with these new challenges.

However, in the long term expanding the team will allow us to pursue more crazy and exciting features for the project, as well as an increase in production speed!
Again, we greatly appreciate your patience as we find our feet.

Right, on to the more exciting stuff!

Steam Workshop
You can now quickly and easily share war machines with other members of the Steam community.

To download someone's machine all you need to do is browse the workshop for a machine you like and then click subscribe. This will automatically download the machine and place it in your saved machines folder.

Uploading your own machines to the workshop can be done in the load menu. Simply click the small Steam logo in the bottom corner of your machine's thumbnail, select the appropriate tags and press upload.
You can also update machines that you've already uploaded by clicking the update option. This will then sync to everyone who has downloaded your machine updating it in their game to show your latest improvements.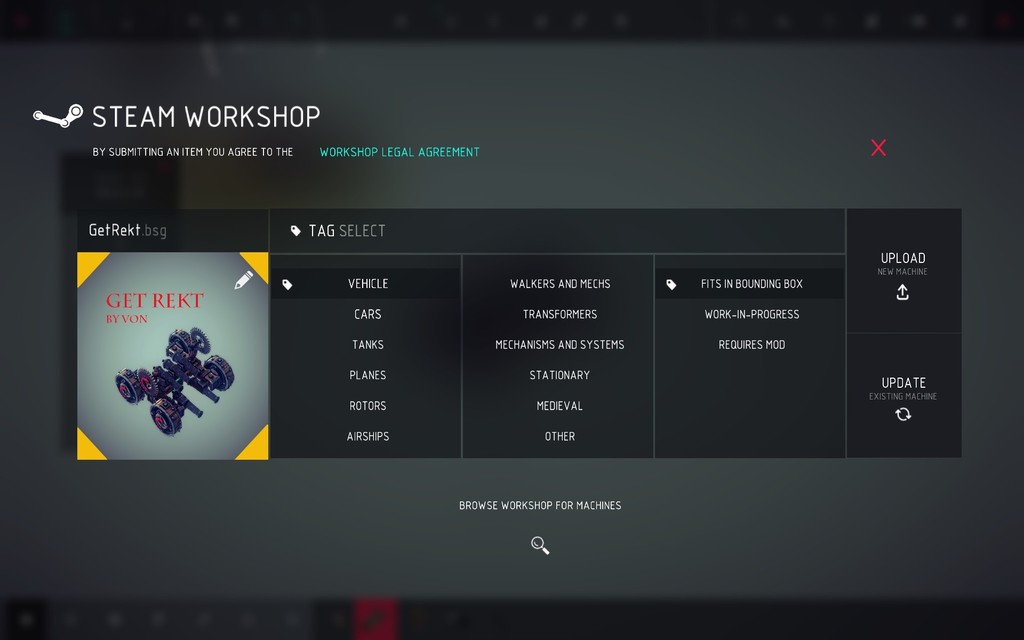 New Levels
We've got 5 new levels for you to sink your teeth into with this update. We don't want to spoil them so we'll just let you explore them yourselves. :)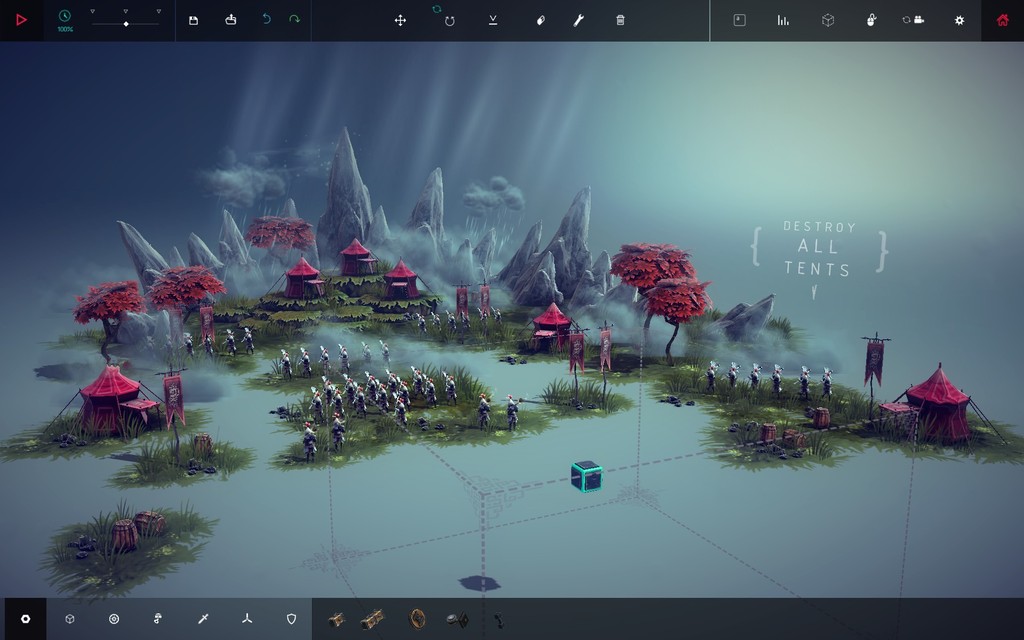 Other Stuff
There are 2 new blocks with V0.10, a grenade and small propeller, as well as some other improvements & bugfixes.

Well, we look forward to seeing the chaos you create with this latest update!

Changelog V0.10

ADDITIONAL CONTENT

Added Steam Workshop Support
Added 5 new levels
Added Remote Grenade Block
Added Small Propeller Block

IMPROVEMENTS

Changed background colour for new machine thumbnails
Grabber can now grab static objects and the ground

FIXES

Fixed some save corruption issues
Fixed issue where invincibility wasn't highlighted when turned on
Fixed issue where 'Enter' & 'Backspace' keys could not be used as hotkeys
Removed mass slider from small wheel
Fixed Yaks not dieing when dropped
Fixed Grabber breaking if the object it grabs is deleted
Fixed tents breaking whilst in build mode on level 9

CHANGES

Unpowered cogs can now have their rotation frozen using the keymapper tool