Anmerkung für unsere deutschsprachigen Leser: Eine deutsche Version dieser News befindet sich in unserem Dev-Blog.
Greetings,
again a month has passed by and many things have happend in the world of our mod. At the moment we are working hard on abolishing some uneven bets of our Fractions, which means that we are restructuring the Kits as often as it takes until both sides have their specified pros and cons. In addition we had our first tests with the dedicated Modserver, with promising results.
The pythonexperiments our Dev Bl00drav3n is currently doing (Anyone who wants to know more about his projects should visit his Blog on ModDB) are working out well and it seems very likely that we will reach our aims. The work on the weaponary, which we started not too long ago is doing well, more than 80% of them are fully modeled and textured and just have to be put ingame.
Before we get to the usual amount of Pictures a word on the upcoming video. The script is finished and the recording will start soon. I cannot give you specific informations about it's thematics but I can say that It won't be like any video we've made before.
Here are the usual renders: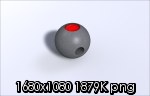 Goa'uld Grenade
Last but not least I want to mention our brand new Dev-Blog, in which our Developers will give you insight in the current Developement in two languages. The current News will be posted there, too.
In addition you can now speak with out Developers directly, anytime (at daytime, following the GMT). All you have to do is to join our RotF-Talk Jabber chatroom. All what you need is an XMPP-capable client like Pidgin or Psi and a Jabber/XMPP Account. You can find more information in our Forums.
We are working hard and whish you all happy Pentecost-holidays (if there is something like that in your country).
The RotF-Team