Any and all Star Wars creations, regardless of their source or creator, are copyrighted and trademarked by Lucasfilm LTD ALL RIGHTS RESERVED and can be used by anyone according to the copyright and trademark enforcement
policies of Lucasfilm LTD.
Any and all game mods and mod elements relating to Star Wars regardless of their source are the property of Lucasfilm LTD and can be used freely without permission in accordance with Lucasfilm copyright guidelines as outlined in the game's and/or mod tools EULA.
Modders hold no copyright or trademark claims over Lucasfilm LTD properties.
Permission is not required to use or create derivative works in accordance with Lucasfilm LTD copyright guidelines.
No entity can prohibit or allow the use or distribution of Lucasfilm LTD properties but Lucasfilm LTD.
Any claim of ownership or rights must be resolved by the complaintant with Lucasfilm LTD and no other entity.
Claiming rights over Lucasfilm LTD property not extended by Lucasfilm LTD is a violation of copyright law.
Any derivative works become property of Lucasfilm LTD ALL RIGHTS RESERVED upon distribution or release.
So to sum it up, if you have an issue contact Lucasfilm LTD
We are no longer taking action on claims of copyright infringment RE: Star Wars assets.Please see my post here, for the legal standpoint and decide if you wish to take this further contact Lucasfilm LTD.Moddb.comKind RegardsAaron Baker
Community Manager
DBolical Pty Ltdaaron@dbolical.com
@tk_aza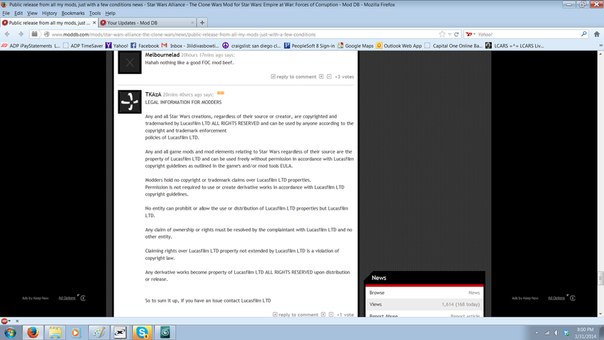 original Cs619330.vk.me