Update 2: Inventory System
Since we have just started here in indiedb, we will be posting our updates and progress constantly.This week we will begin talking about the inventory system from the game which was designed in order to keep everything simple but engaging.An update about this was written by us in tumblr but we better post it here so that we can receive your feedback!
OverviewInventory system can be a pain if it is not designed correctly. We sat down a few days talking about what approach we may take.In the end we designed a simple but interactive inventory system that merges with other elements of the game and does not feel ¨apart¨.
Pixel by pixel, our inventory started to take form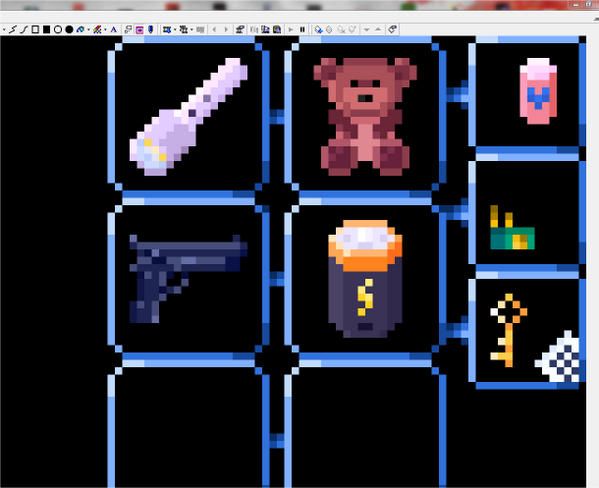 Real time inventory
Yup, real time! It is a survival horror game so it makes sense that if you are looking for some batteries to recharge your flashlight or want to use a first aid kit the time must not stop, it would go against immersion The dangers of life are not going to wait for you to be ready, so brace yourself if you want to survive!
Categories are important!
The way the items are distributed in your inventory plays an important role in the immersion. We decided to go simple with this, so we only have 3 item categories : Consumables, Weapons and Key items.As soon as you open the inventory, you'll have to choose a category, and a preview list of the items is displayed. It is easy to navigate through them.This is a survival horror game, there is no need for 9001 categories.Keep it simple and clean!
There are different item types, so it is important to stay organized

Limited by weight
There are 12 visible slots in the inventory, but that does not mean you can only carry 12 items per category.The maximum amount of items you can carry is based on weight. If you are carrying too much weight you will have to get rid of some stuff! But don't think you will have too many items… we want to make you suffer a little. This game is not a loot fest but will have a big number of items that can be collected and used during your trial.
So that means… I cannot have it all? What if I am a completionist?
Worry not! if you drop an item we will make sure you can get it back.Key items cannot be dropped of course, or well… we are evaluating it ! Lots of things can change during the development process.
And each item has different options regarding their type?
Each item has a different set of possible options that can be acceded. "Examine" and "drop" are the most common of them all, as you can examine every item you have and a description will appear on screen.
Different options for different item types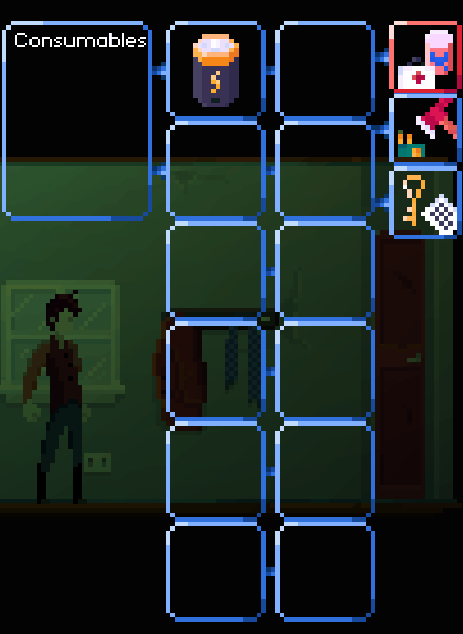 And what is next in Lost Hope's inventory system?
There are lots of things to polish. The inventory that is currently being shown is not a definitive version , remember this is work in progress !We are still evaluating the option of combining items in the inventory screen… As for the font colors, some of them may change, like the item name text , or the weight.In the end, the inventory looks and works like this, even though we still have to add the total weight.
The inventory in action,"Examine"option!