[Previously on The Changelog… Version 0.4.4] (revision 1914)
Welcome back to the one and only changelog! Since last time we have traveled the world (a little chunk of it, to Brazil and back), won a number of international awards (one) and eaten many empanadas (around 100 of them) but what about the game? What new and exciting stuff have we been adding to Okhlos? Well, the changelog is here to answer that. Here is what happened …

Lots of new music and sfx
Yup, Gordon has been really busy these last couple of months and has come up with some really amazing tracks for Sparta, Ephesos and Atlantis, plus Boss Battle Music! You can Ashellinthepit.bandcamp.com" target="_blank">check them out on Bandcamp right now!
The Agora
Imagine a place where anything is possible. Where every dream you ever had comes true. A place of infinite wonder. The Agora is not that place, but exercising your imagination is always a good thing. The Agora is the place where all play sessions after the first one will start. Think about the camp at the gates of the castle in Rogue Legacy or the village in Desktop Dungeons. It will be filled with all kind of special things that we will the unveiling soon. How soon? Soon as in right here in the next paragraph.
A sneak peek at the Agora
Persistent Heroes
Some Heroes are like diamonds, they are a girl's best friends. No, wait. It wasn't that. Some heroes are forever. That's it. Some heroes may fall but they never truly die, they are the persistent heroes (cooler name pending). They are a new kind of heroes that when once you buy them will always spawn at the Agora, so they can be part of your mob from the very start of every sessions. Think about the blue chests in Lufia's Ancient Cave. Or think about kittens. It's always nice to think about kittens.
Philosopher Selection
Plato or Aristotle? Heraclitus or Parmenides? You can settle the millennia-long debate once and for all with our brand new Philosopher Selection Screen. Find new philosopher as you play, and then they will be available to be selected when you start a new session at the Agora!
Building Destruction FX
Taking the destruction of invaluable buildings to a whole new level. Roque thinks the effects can still be improved but they are awesome as they are nonetheless!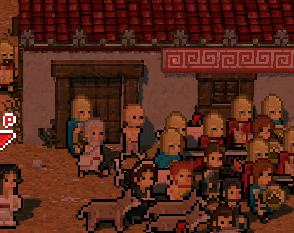 Kaboom!
The Encyclopaedia
The lives of the most eminent heroes, gods and mythological beasts all summed up in one convenient place. As of this version we now have the all mighty encyclopaedia in place! Find monsters, buy heroes, unlock their entries. Gotta catch'em all!
Continue
Because now that we are adding more and more levels, it comes kind of handy.
Mouse is here
I was going to add a nifty gif showing how we now have a custom cursor that fades in when you need it and fades out when you don't, just like Spelunky does. But gifcam hates me so I will just leave that to your imagination (again).
Extreme Make Over: Ephesos and Atlantis
This could very well be an update on its own, so I won't spoil much but I'll tell you they just keep looking better and better.
Boss Battles v 2.0
Boss battles have been an issue for some time. They lacked something… More enemies! We've added a small system that spawns enemies throughout the battle based on certain conditions. This not only makes the combat more epic, but it also adds a new level of dept,h as you now have to divide your attention and your resources between the boss and the stream of enemies. It is something that still requires some playtesting and fine tunning but it is already proving to be a nice improvement. Plus, it also solves another problem we had: endless battles. Until now you could hide from the gods and keep on playing with a very small mob for ages, but no more. If you do that now, the horde will eat you alive in no time.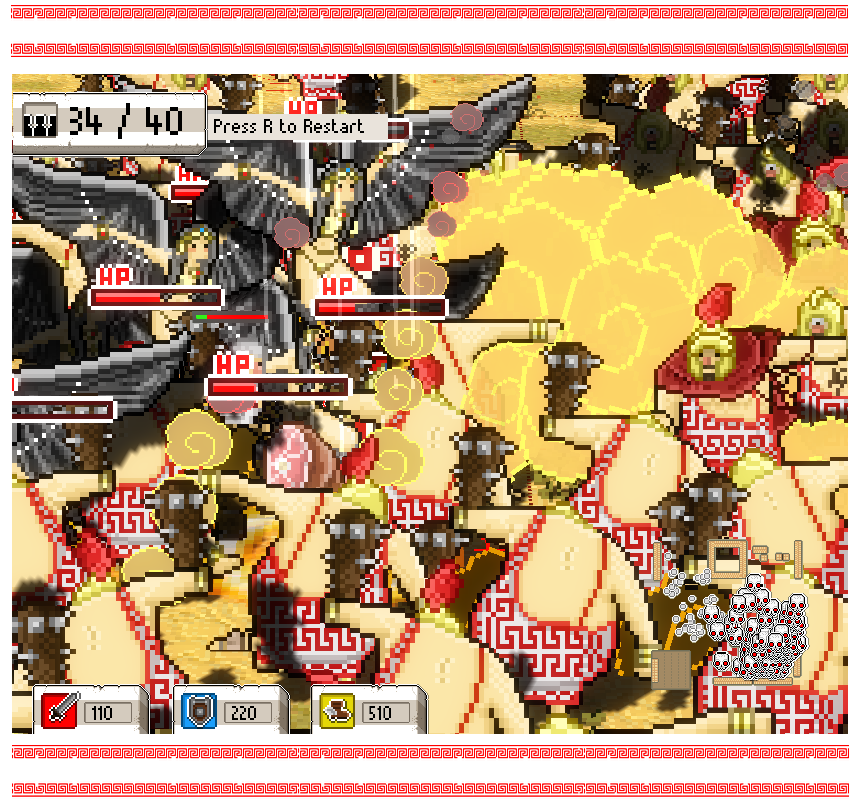 It won't be as chaotic as this but, yes, lots of enemies!
Buffing Up the Morale Stat
As you may remember from updates like A Matter of Morale!
Turning the Heroes up to 11
Once again, this is still a work in progress and we may write an update on the subject on the near future so I won't say much, but let me tell you that some things were done and elevens were reached.
The Sprite Batcher (and other optimization)
Premature optimization is the road to perdition but sometimes you can't help it (or it is not premature anymore), so we optimized a few things. Among them, the sprite batcher may have been the most important one. Each time you render a material in Unity it issues a draw call to the graphics API. Texture atlases and static batches are the most common way to deal with this, and that is what we have been doing from day one. However, due to the way ingame sprites are handled in Okhlos we couldn't use the default sprite batcher. We had to take matters into our own hands and we finally did, customizing the hell out of that sprite batcher to suit all of our kinky needs. The result? Less draw calls! So sexy!
More Configuration Settings
The config window is slowly getting filled up. We've added a couple of graphic settings, and handful of game settings and the ubiquitous sound settings. There are many more to come but it is already starting to look like a proper config window.
And bug fixes!
Fix one bug, add two more!
And thus we reached version 0.5.0. It has been long way since the birth of Okhlos. 2,317 revisions. 456 files. 41,510 lines of code. Countless Monty Python jokes. But here we are, with lots of stuff still to come but getting closer and closer to beta.
But where are the new cities? The new enemies? The new heroes? The new gods?
Well, some of them are already implemented, some others are in the works, but will soon read more about them right here at your favorite dev blog. So stay tuned for future updates!