There has been some discussion over the loading screens for the game. This is what we have so far.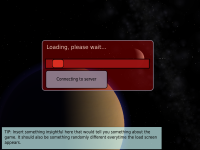 There are plenty of things still needed for example we could use a game logo on here for a start, but it's coming along nicely with lots of people taking part in the discussion so please login to the forums and join in.
Dave "c-thru" has been busy working on 3D models for the tunnels. As usual his work is top quality.