Link-Dead technology test is finally here on time and I welcome all to participate in testing. I want to test mainly video compatibility. Detect what doesn't work or shows incorrectly and performance on other peoples computers. So when the proper release is here we can all enjoy it without glitches. Besides that if all works you can test playing a gostek in Link-Dead. I made a special climbing map just for this test. Try to get across the whole map and collect all red glowing artifacts.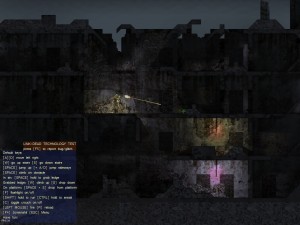 If you get to the end artifact (on top of the small building), post a bug report [f5] with your nick and I'll think of a prize later for everyone that has completed the test.
Link-Dead Technology Test features
complete map movement with climbing
full animations
shooting and effects
dust processor effects on bullet hit
collision and physics
particle system and effects
bug reporter integrated with TwitPic
auto-updater
pixel shader normal mapped lighting with shadows
shadows and lighting without pixel shader for low-end gfx
map rendered procedurally from bitmap sketch
3d sound effects
fullscreen smoothening shader
hanging lights
context menu GUI
Twitter news
What to report?
- Most of all tell me if it doesn't work at all
- Second if something works really badly. See the screenshot above for reference. It will look more flat if your video card doesn't support pixel shaders.
- Flashlight is seen only against walls and dust. If the lights don't show there report.
- If you have slow FPS (smaller than 30) please send a bug report (F5) so I can see your hardware
- Gameplay bugs
- Difficulty with controls
- What you like most
Please check the console (~ key) for errors and the Logs/app.txt and Logs/console.txt for errors.
When it doesn't work
As always be sure to have the latest video drivers installed. You should probably go to the ATi or NVidia homepage for that. If the auto-updater works correctly releases should be frequent. But I have to know what to fix. If something doesn't work please describe as best as you can the problem and attach screenshots (if you can't use the in-game reporting).
Some things that might help:
Open the config /Base/Scripts/autoconfig.gm
set the following vars:
If graphics don't work or are really slow:
v_useshaders 0
v_savememory 1
If sound makes the game unplayable:
s_soundon 0
Switching to windowed mode might help:
v_fullscreen 0
Download
Note: loading for the first time may take up to a minute (I haven't optimized the ambient lighting calculation) Mm.soldat.pl (7.85MB) Come back later for updates. You should subscribe to my blog and Link-Dead media pages. Also follow the in-game news.
And most of all tell me if you enjoyed it!
Have fun!