We have our list of testsers hand picked by the Lift team. We also have a quick update to go with it!


Whats up!
Ok, ok I know this is a few days late. I have been berried under paperwork for the past 72 hours and I just dropped the ball guys. So anywho onto the new testers! A long time team member and good friend of mine Genjo was appointed the coordinator of all the testers. It was his job to sort through the many applications to choose a small group that we could all decide on. Thanks again to everyone that took the time to submit an application, and remember that even if you didn't make the team.....we still love you.
The following list of people will be receiving an E-mail in the next few days with further instructions:
Vince
feather
Nick
Pinky
Ben
Vfef
These are the names that we were told to use in your E-mails, we will be e-mailing you soon! congratulations. While this is a small list so far, expect it to grow as we build onto Lift!

This month!
Over that past few months Cerebrate has had the difficult task of tearing down our orriginal build, and remaking it from the ground up. The decision was made when we found that a very important feature could not be added to our current build. So it was torn down and I am very pleased to announce that it is almost all the way back to its full glory. Now whats good about this is Cerebrate has been able to remake his past work with a much more skilled hand. This new build will be much more stable and built more specifically for our needs. We have already seen better net code and performance. A note to the Testers we will be allowing you to play our old build (this is still an important step in the testing process).
Im having a bit of trouble getting our modelers to work but progress is being made, any fan of Eureka Seven will know of Ciudades del Cielo. Over the next month we will be attempting to re-create this location. Here's a few screens to show our first bit of progress.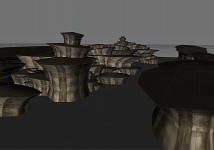 That's all we got for you this month. Next month we should have some footage of the new testers in action, as well as an update on effects and Ciudades del Cielo.