Today, I will be addressing the current state of Liberico, as well as the future of Liberico, and our plans for Liberico. If you notice, our previous news post was posted May of last year. You may be wondering why we hardly update our project page, or why we do not keep up with our news posts. Well, to answer your questions, let me start by saying we are only a small group of people, only around 10 active members, that are actually working on this project. Also, we do not have any source of funding, yet we are aiming to achieve quality that is on par with current gen games. This is a difficult feat in itself, and recruiting isn't a simple walk in the park either.
Current Issues:
Due to our lack of funding, recruitment is difficult. Due to our small team size, progress is slowly made. However even though we are not being funded, and our progress is slow, yet steady, we are still pushing out high quality assets, animations, and plan to achieve even greater things in the near future. This does not mean we are okay with the way our team is currently structured. We are still recruiting, and despite our limited time due to work and school, we are still working at a constant rate. This rate may be slow, but we still manage to pump out work.
Current Progress:
Even though we lack proper funding, that does not mean that we do not have the potential to create a truly innovative and unique game-play experience. We've managed to create two base character models for the Alpha; a Liberico unit, as well as a KRM unit. In the alpha, players will be able to select a faction to join, Liberico or KRM, choosing the Liberico faction will result in players using this default model: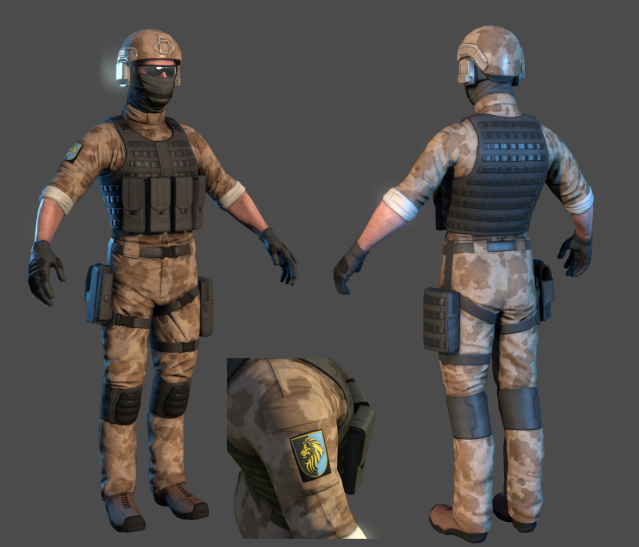 And on the other hand, players who choose the KRM faction will result in those players using this default model: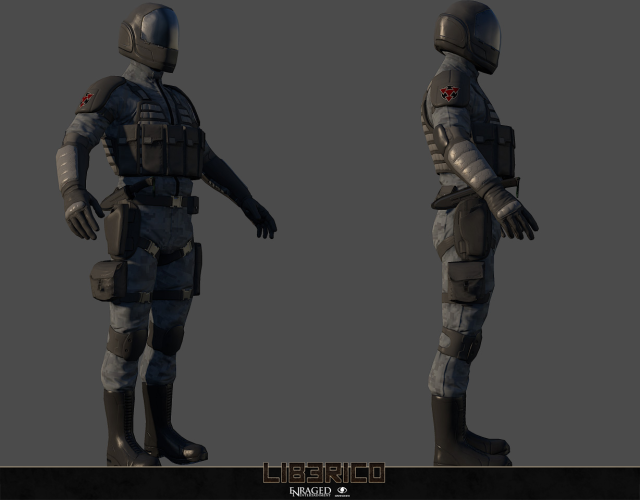 On top of that, we've also got a new map in the works! Rather than basing our first map on a simple harbor, we've decided to base our first map in the Atacama Desert. This map will feature wide, open land, a weather cycle, day/night cycle, small towns/villages, and vehicles! Finally, we've managed to complete our first set of first person animations for the AN68 assault rifle, which will be featured in the Alpha as well. Here is the video for the animations:
Future Plans:
Our plan for Liberico is to complete the necessary first person animations, as well as the third person animations, implement our very own audio to be in sync with these animations, complete the Atacama Desert Map, and finally, work on a trailer/display video of Liberico. Once we complete the trailer, we will then be able to apply for a royalty license for the CryEngine 3. This license will then allow us to open up a Kickstarter. If we manage to gain the necessary funding we need from the Kickstarter, this will allow us to buy licenses, pay our members, advertise our game, and recruit even more professional artists. Once we manage to accomplish this, we will be ready to have a Alpha sign-up on our website, and select only a handful of players to participate in the Liberico Alpha.
End Report:
Well that is all for our news report! As you can see, Enraged Entertainment is still up and running, Liberico is still in the works, and we will continue to try our best to accomplish our goals. I hope you guys enjoyed our recent news report, please spread the word about Liberico, and visit our facebook page for continuous uploads of progress @ Facebook.com.