What's new with Legacy?!
A whole lot, these past two weeks, after a couple of the programmers settled in, has been extremely productive. We've implemented the back end for many integral game systems, like the bone scaling and mesh swapping for races and sexes, the equipment system (that also scales), the sprite based eye system, and the material swapping system.
Bone Scaling with Race Genomes (and cross breeding!)
Legacy will have support for an insane amount of races, and the reason for this being, we scale humanoid bones to meet the requirements of a specific races form. Whether this be an orc, elf, dwarf, we'll have it all... and the best part is, you can cross breed races as well which is all handled my the bone scaling with 2 defined races. In gameplay terms, this means you will meet an incredibly amount of characters from different backgrounds simply based on their race and it's origins, and since this is handled by the game, we will have the time to write and solidify the traits and behaviours of each. You will also be able to play an unbelievable amount of races under this system, and since most of the work is handled by the game, we can focus on balancing. As it stands, we will probably have a "Sphere of sexual influence" in which allows access to other races when creating a new character, if in your bloodline past you have romanced a member of that species. If the breed you desire it not immediately available (genomes are too different) you will still have the option to play the character, but more generations will pass in this time, and the world your new character discovers might be much different than the world of its adventuring ancestor.
Mesh Swapping with Race Genomes and Dismemberment
You can't simply scale bones to make a race look different. Orcs have strong facial structure and big teeth, dwarfs have rounded chubbier faces, elves more slender faces with pointed ears, for this we have our mesh swapping system. Currently the base mesh consists of a series of parts in which are interchangable and the normals are continuous (to keep skin smooth across the edges). This system easily allows us to swap out the head of a human, for the head of an orc or dwarf, this also allows us to have full body dismemberment, including decapitations, lost hands, arms, feet, etc. As it stands, these will probably be killing blow as development and design time can be better spent on other cool systems that will impact gameplay or the world in a more significant way.
Equip System
The equip system (working with the bone scaling system) is how we are going to jam pack this roguelike RPG full of different armors, weapons, etc. So for armor, on the backend all of it scales to the race, this means one set will fit all... on the front end though, as a dwarf you will not need nearly as much leather to make a leather set as much as an orc would! We also have a system which allows extremely customizable armor in that you can have independent sides of your body with different pieces, upper legs, lower legs, upper arms, lowers arms, all separated. Want to be a one shoed half dwarf hobo? Go right ahead. As it stands, weapons will be customizable, just like in the prototype. You will be able to build your weapon piece by piece, whether it's a sword, mace, staff, bow, arrow, etc. You'll choose the parts and choose the materials... (more in "Material System")
Eye System & Facial Animation (WIP)
This is what brings the characters life, having blinking, moving, sprite based eyes. As it currently stands you can change their color, and they will look around. In the near future we will have multiple sets of eyes to choose from (eye base and pupil) and also have the character looking at things in the space. The facial system for eyebrows and the mouth also use this sprite system, and we will have a full range of emotion present by the next update (hopefully)!
Material System (WIP)
The material system is the cherry on top of the customization, one of the great things about the art style is that everything is cube mapped to tileable normals, so nothing is married to its default material setup, in fact its been set up to be replaced. If you don't know how to make a large pommel to counterweight your big ass blade, you better make sure you have a heavy metal like lead to weight it properly. You want to show how balling you are? Better get enough gold to use it as trim for your plate set... which you should probably make out something sturdier than wood.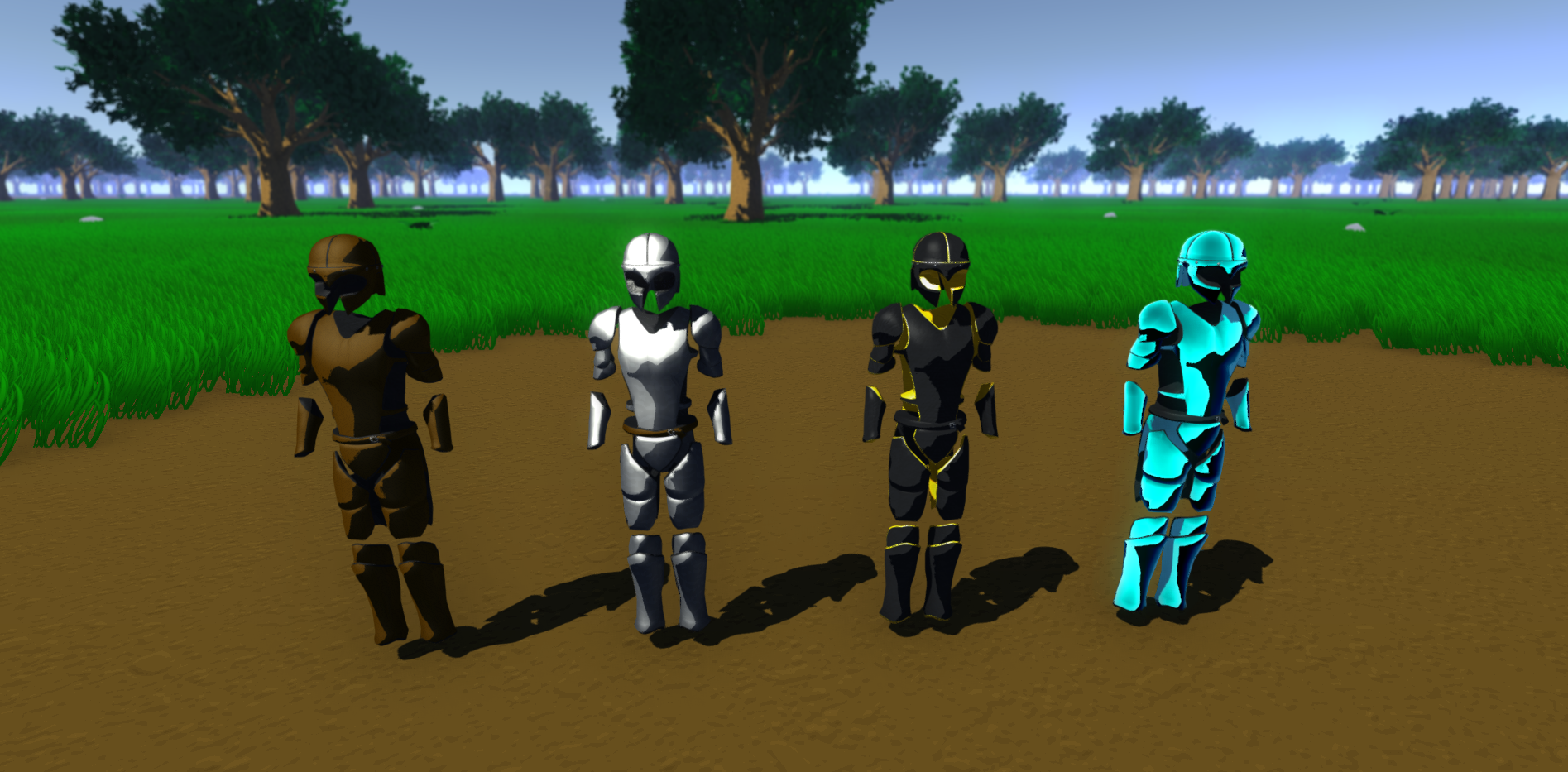 And Finally... Thank-you everyone for your ongoing support! It means the world to me, and without knowing there are people out there looking forward to this, I'm not sure I could put my life and soul with as much energy and commitment as I do, you guys are the best! If you're not already, you should definitely be following me (or Sam) on twitch, the feedback and ideas are awesome, there is a good chance I will make your item on the spot and put it in game (if it's cool) like I've done already with countless others on the stream. You can also help by liking, following, etc, any of our social pages, you wouldn't believe how important it is to get the word spread when you're an indie and have no money for advertising! Thanks again!