sHello everyone, it's been a while since the last update, but rest assured I was not idle (well, mostly not) during the interim! This time round I bring you more than usual:
-the Chimera Mothership, a gargantuan capital ship capable of carrying tens of thousands of Xin xenoform seeds to any planet of choice!
-the Xin Sentinel Outpost, a compact, yet powerful space station capable of projecting its very tangible power over an entire gravity well.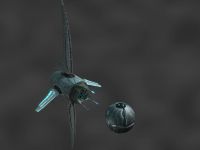 High quality render of ingame models.
And last but not least, a short reconnaissance footage taken in one of the outlying star systems where the strange aliens seem to spread unoposed. The 25 and change seconds of footage show a Chimera class ship leaving some sort of a beacon behind, but then things get really interesting...
Chimera Mothership
The Chimera is one of the largest capital ships in the Xin fleets, however most of its bulk is used for storage of various xenoform seeds, engineered lifeforms designed to take over the biosphere of a given planet (or create one if the planet is inhospitable) and convert the world to something suitable for Xin use. As such, the Chimera is completely unarmed, but all that carge space is not wasted - instead of classic weapon systems, the behemoth ship houses specialized drones capable of providing a flexible but tough defensive screen for the mother vessel.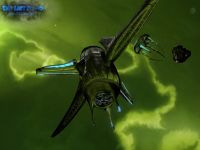 The huge hangar orifice can accomodate large specialized
defense drones assisteing the mothership.
But that is not all - the Chimera has one unique ability which truly sets it apart from the rest - it can deploy special Graviton Beacons which use disposable but very powerful Singularity Generators to entice a formation of a stable black hole - which can then be used to transport large objects across incredible distances in an eyeblink (without tearing them up at the event horizon). In Chimera's case, the object is the Sentinel Outpost, a "diminutive" starbase focused purely on the military role of projecting power over a given gravity well and assisting the reach an influence of the nearby Xin fleets via its built-in Wormhole Stabilizers, the same ones which are usually found in Xin-held space.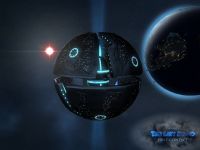 The Sentinel in orbit.
That way an Outpost, which can be deployed virtually anywhere, even in enemy-held space (provided the fragile beacon is not immediately shot out of the sky), can enable the otherwise lumbering Xin fleets to reach the gravity well where the Outpost is with astonishing speed and agility.
This ability alone, perhaps, makes the Chimera *the* most valuable capital ship in Xin fleets.