MONSTER UPDATE ALPHA 0.35f1 LIVE!
New Harpoon:
Craft and mount the new Impaler Harpoon on your crane and start taking trophies! Player will also be able to control the boat while controlling the harpoon. Be careful though as there are no seatbelts, so one hit and you'll be knocked out of the seat! SIDENOTE: We are working on attachable harpoons and is something that will be released at a later time when we introduce more physic fixes. (You must look at the chair to mount and dismount the harpoon launcher.
New Creatures:
Sperm Whale

Player can now find sperm whales out in their travels, they can only be harmed in the eyes with non harpoon weapons. When you shoot a harpoon at it, the whale will attempt to run away. During this time, the player needs to stay within 300m of the creature or else it will dive back under never to be found again… Sound easy but if you get too close the whale will knock your boat over and the time it takes to recover may be just enough for the whale to get away ;)
Megalodon Shark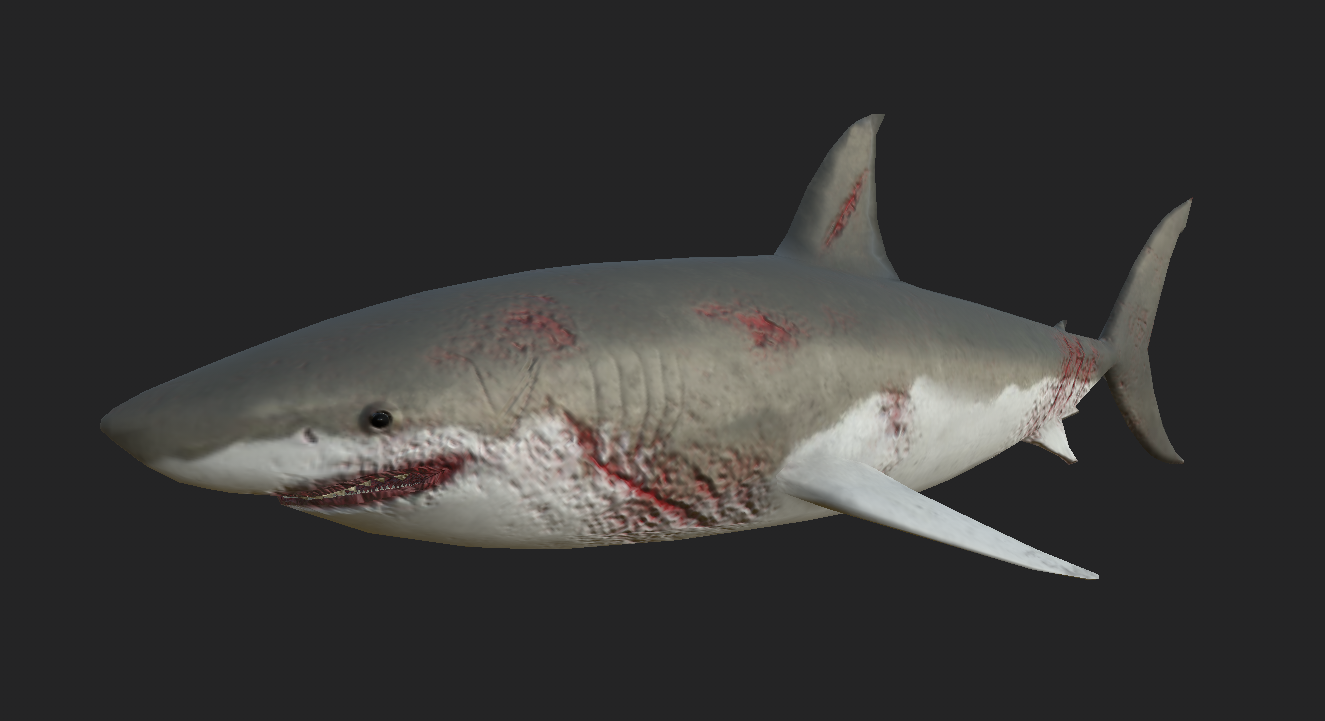 Currently only summonable, will be added as a rare spawn into the world after some more balances. Player has a chance of summoning a mega shark from the distance by using Large Chum or Large Spam to attract small sharks. Megalodon sharks want to grab you from the boat, capsize it, and take you 20m below the surface. If a mega shark gets you, just float back to the surface and quickly get back in your harpoon, for the Megalodon will return shortly to repeat this harrowing attack.
Leviathan
Currently only underwater, will be added to surface combat in the future after more fixes. Player can fight the Leviathan for the first time by using the dive suit in Logansport. Keep in mind the monster under Logansport does not respawn and players will need to go out and dive out in the world for a random encounter with more Leviathans. The Leviathan is a long fight and will require patience and some mechanical bull riding skills (Only for the truly daring survivors).
Trophies:

Each one of these 3 creatures can be harvested by either using the hatchet or plasma cutter. When this happens, chunks of meat will fly out until you've completely harvested the creature and the creature disappears with a skull reappearing in its place. Trophies can be placed on player built homes and may require rotating skulls with the middle mouse button to find a good spot.
Fishing Overhaul:
In an effort to eventually remove all the minigames (This includes Hacking) from Landless, we have done our first test removing it from fishing and replacing it with a more immersive method where the player will cast out a float bob which will be tugged down when you get a bite. At this moment you must click the left mouse button to reel it back in. Fishing has a chance to attract a tiger shark.
Damage Indicator:
Players can now figure out where they are getting shot from by looking at the orange triangle on screen.
Patch Notes:
-Hammerhead sharks speed has been reduced by 20% and health increased by 200%
-Buoy build states have been removed, when player plops down a buoy, it will be fully constructed
-Fixed certain merchant ships that were missing merchants leaving villages
-Makeshift battery cost has been reduced from 10x to 1x. The makeshift battery approach is acting as placeholder until we implement a more efficient system.
-Collection contracts should no longer bug out and will read the amount of items you have correctly.
-Crafting queue corrected, Player can now cancel any queue in any order, this has also fixed a UI bug where queues where not showing up after reloading the game. If problem persists, please let us know right away.
-Rain and weather effects are turned off when the player is in the dive suit underwater.
-First Aid kits can no longer be consumed in the suit. (They didn't heal while in the suit, but the player could still consume)
-Optimizations on the small villages, adding them to the pooling list, small villages should be causing less fps drops when rendered in.
-Added new code to the npc buildings and enemy camps to self correct itself if accidently flipped over.
-Player can now properly pick up floating platforms without having another one in the inventory
-Merchants should now be appearing in their shops
-Sharks no longer tread water and will move linearly unless attacked, at which point they'll attack either you or the boat.
-Merchant ships no longer get stuck on container ships and will be redirected
-Seaweed stacks changed to 2000
-Enemies should now be appearing on gunboats on all fresh spawns
-Enemy camps should no longer be flipping over
-Enemy rafts should have all enemies on the raft during a fresh spawn
-Container ship ladders are now fixed
-Adjusted morning lighting to be more bright when transitioning from moon to sun
Dev Notes:
Thank you for your support and we hope you enjoy the update. We will be posting the 0.36 (Steam Workshop) update preview in a couple days on the forums so keep a look out for that :)
Thank you,
CodeBullet