Landless 0.30 Official Trailer Released!
Thank you all for your support, we couldn't have gotten this far without you! Official trailer is now released. Please subscribe.
Check out this link to enter in a chance to win a free copy plus a $5 steam voucher to help support other indie games. First prize winner gets a $50 Steam Voucher as well!
Alpha Build 0.30 Release Notes:
-Procedural world now finalized. Spawns enemies, wildlife, structures, and event variables around the player during runtime. Procedural world also will save last known positions of spawned objects.
- EcoTech Quad Drone added to the enemy list
- The Faceless Salters faction added. Contains standard enemy raft. As well as it's special Drugboat.
- Birds can now be killed with gunfire, where they will fall to the water and can be looted by the player for Raw Meat.
- Full featured weather system on a 24 Hour Clock with 8 distinct weather patterns that also now sync with the wave of the ocean. (i.e. A dark rainy day will have large choppy waves.)
- Survivor NPC have been added to spawn with appearing structures. These NPCs now have random waypoints within there house and can be interacted with to initiate trade.
- Item database containing over 200 items for initial early access release now complete.
- Equipment database containing over 50 boat upgrades for initial early access now complete.
- NPC Survivor Raft now working. Comes with random patrol, stops when player nearby, npc intractable for trade.
- The Wastebeard Wasters full featured boat, the Gun Boat is now complete. Featuring a front mounted flak cannon and carrying 4 shooters.
- Enemy procedural spawning now complete, giving the player a full a pve experience against both environment and hostile AI.
- Swimming now added. Player can now dive deeper by holding left+ctrl. Release the dive button to float back up to the surface. When underwater, player will now slowly run out of breath as indicated on the breath meter.
- The Faceless Salters fully featured boat, the Drug Boat is now complete. Featuring side mounted chem throwers and a top mounted chem blaster.
- Sleep feature now added. Sleep is needed for survival as well as saving the game and passing time.
- Dialogue system has been added but is not in use. Plan to use in the future with our new quest system after release.
- Orca has been added. This is very important because whales provide Whale Oil which is the main currency in Landless. Also Whale Oil is used to make Biofuel, which powers your boat.
- Hanging your kill! When the player has killed a shark or orca, the player can back up her boat into the dead carcass where the crane on the back of the boat will automatically hang from. From there you can then harvest their insides by hitting it with a hatchet.
- Bullets added. Can now be crafted and looted. Includes 3 main types, pistol, rifle, shotgun.
- Boat Equipment UI has been redesigned and simplified
- Furniture placement has now been added and can be used to place furniture on your floating platform.
- Minor Bug Fixes
- Optimization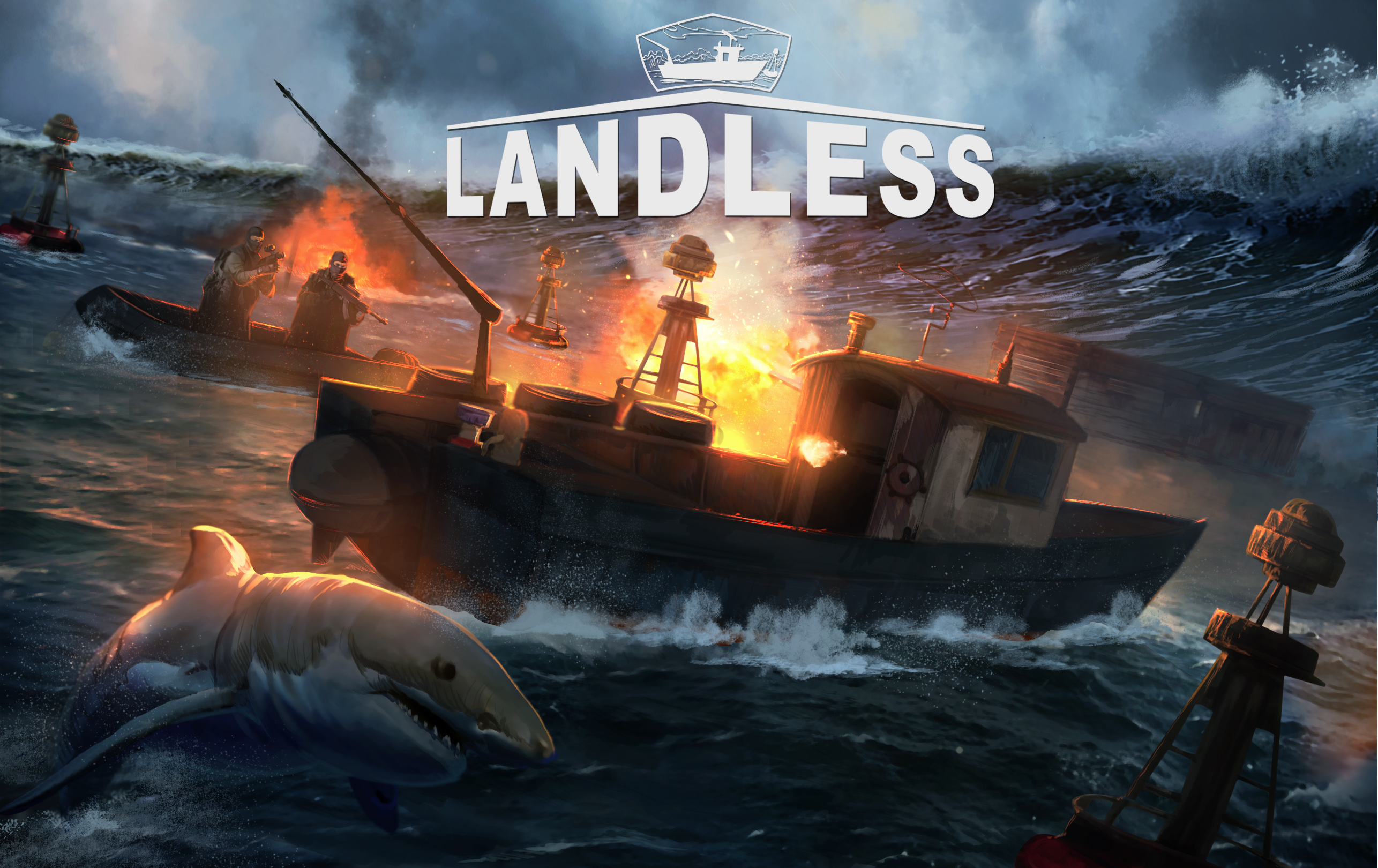 Landless releases on May 3rd, 2017! tell your friends and family! How long will you survive in a world without land...