Hacking in Landless! Professor Goodman made sure your boat was equipped with the right software before your escape. Time to open up the command prompt and hack those blueprints from EcoTech!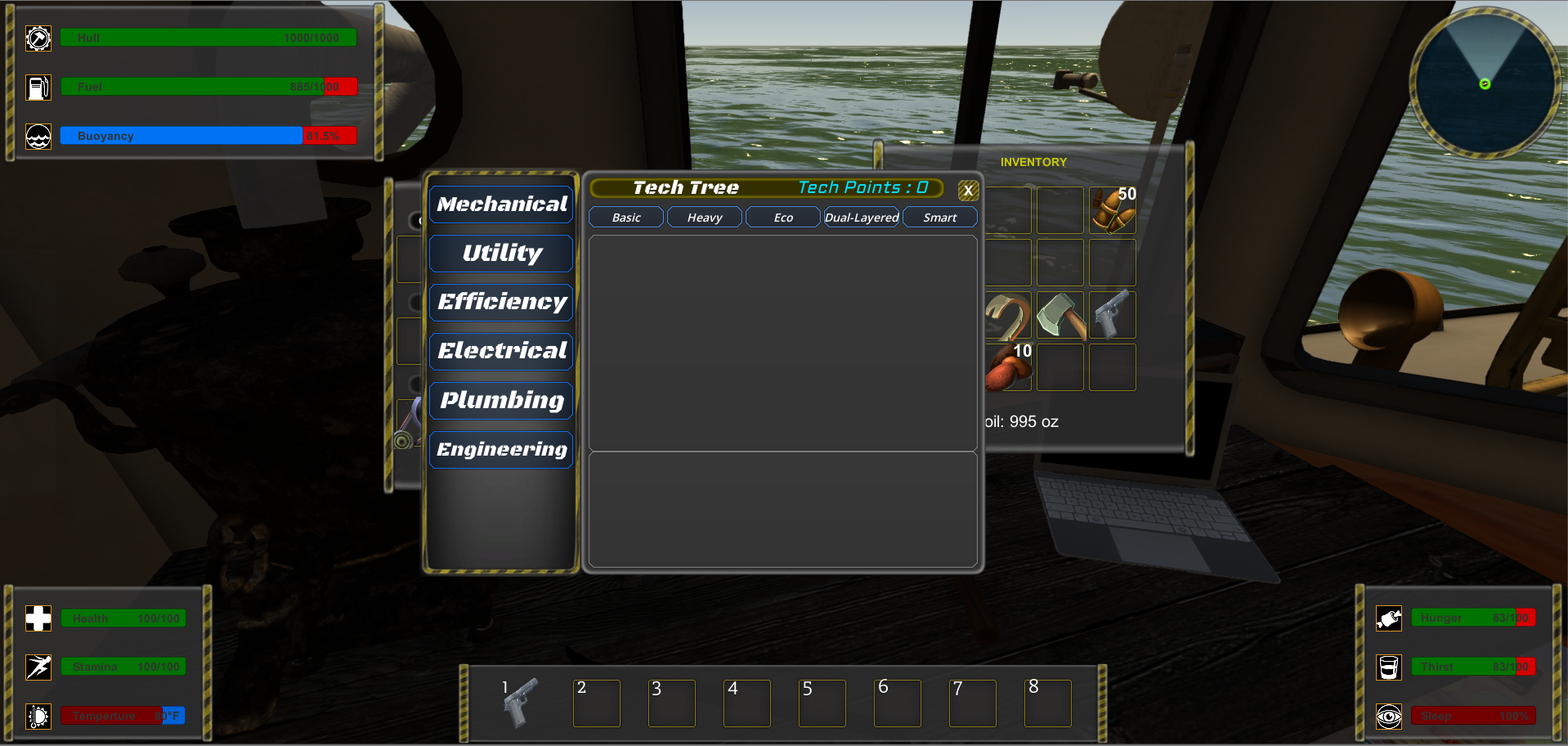 All blueprints must be hacked in order to learn them. Hacking can be accessed by going to the Boat Console Screen (Crafting and Equipment Screen). A new button is available called tech tree. Players can look at blueprints from different areas and compare stats. When the player has chose the blueprint he/she wishes to learn, they will click on the "try to learn it" button.
This will bring up a DOS window with the player already booting up the hack plugin. Simply follow the directions on the screen to finish the process.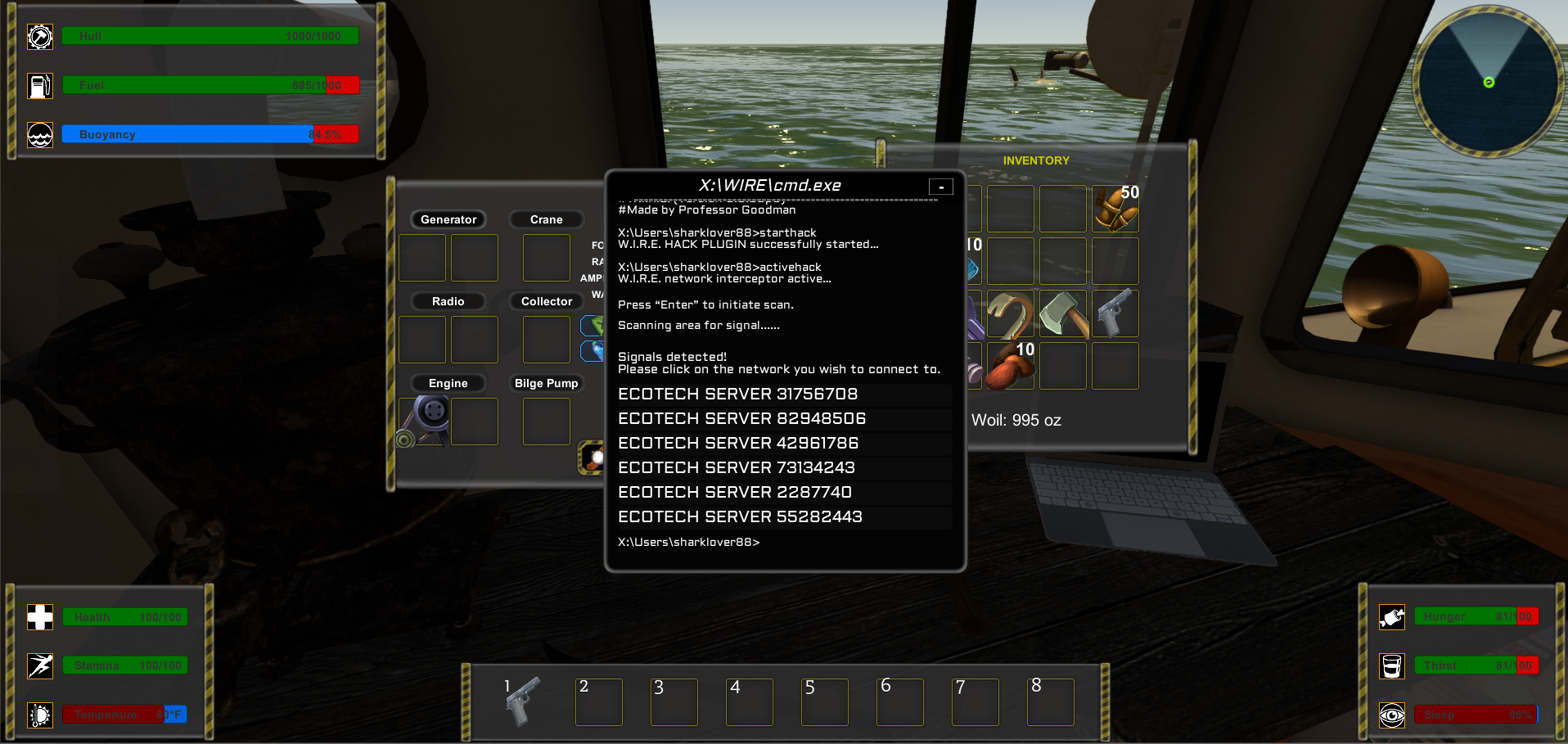 Hacking relies on your Amplify Stats. As you increase your amplify stat, you will increase the chances of penetrating the EcoTech security network.
Be careful though! If your connection gets terminated, this will result in data corruptions (lost tech points) and a dispatchment of EcoTech Anti-Grav Drones to your location!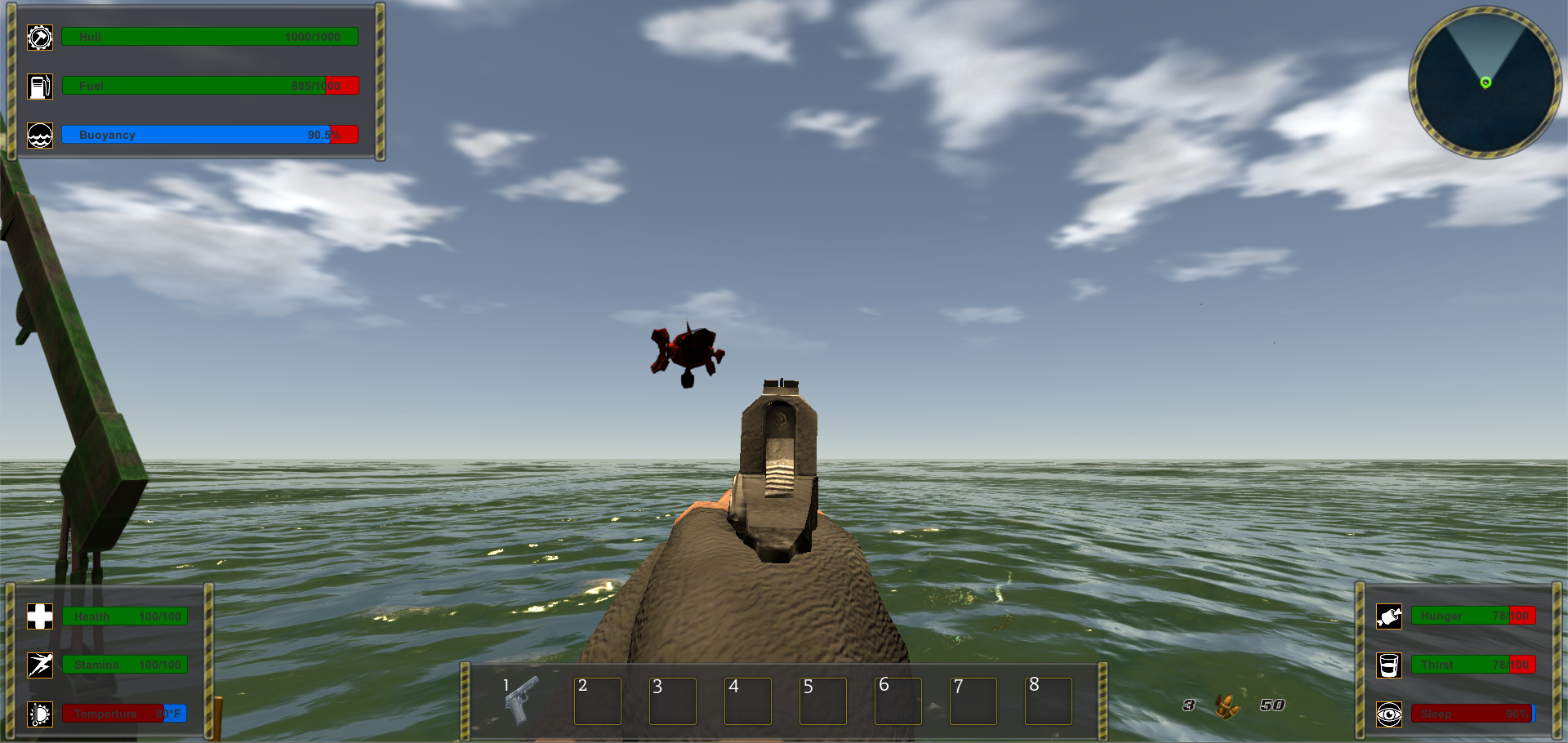 Gain tech points by turning in your black boxes to the black box vendor in Leavenworth. He is standing next to the central computer which is the EcoTech decrypter.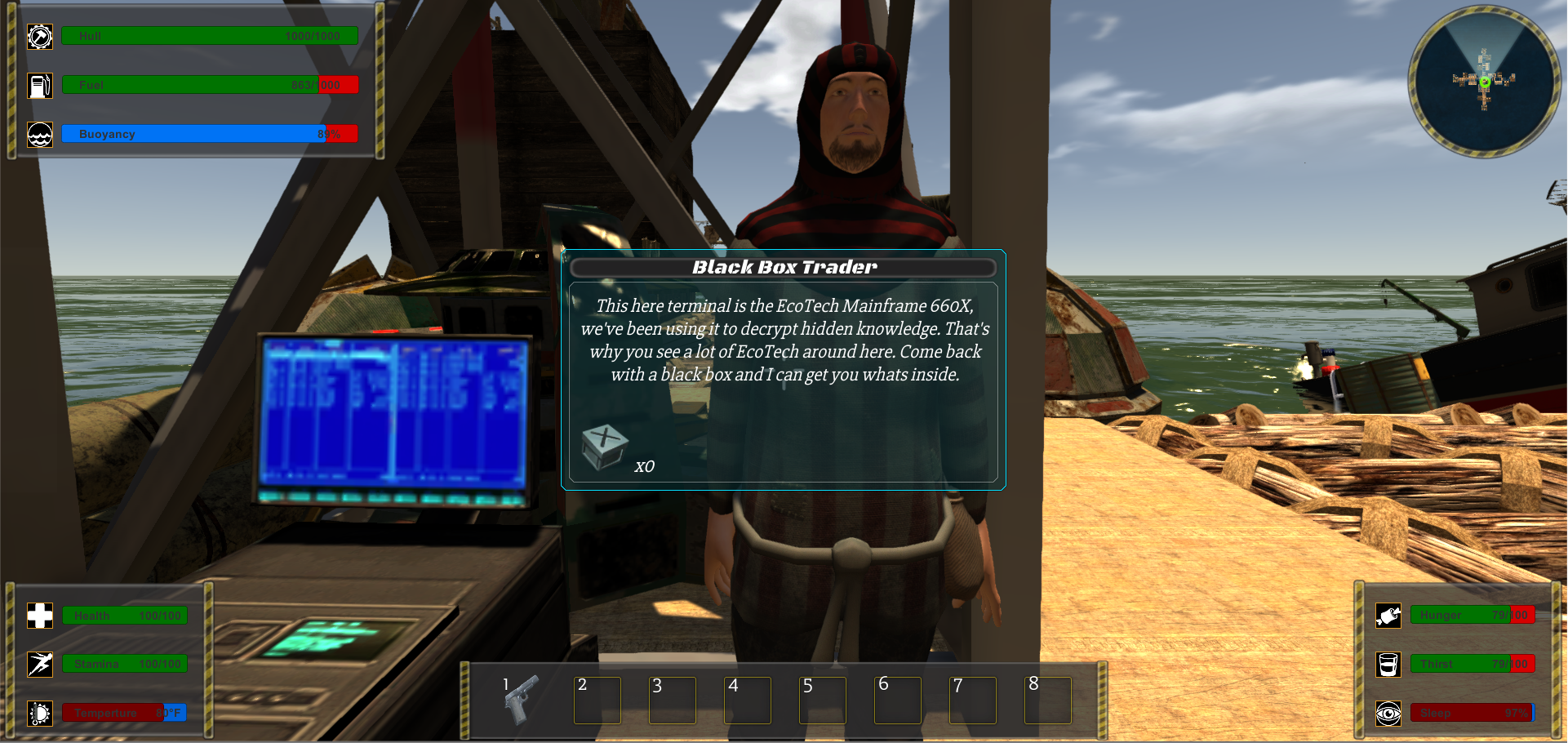 Patch Notes:
- Added new creature! Hammerhead shark (docile, elusive) Can be hung
- Added new creature! Octopus (docile, slow) Can be hung
- Content finished on 3rd story buildings found out in the world
- remind player of empty bottles
- remind players of biofuel
- remind players of water in barrels
- Flak cannon no longer fires when destroyed
- Biofuel exploit fixed
- Enemy raft engine sounds changed to something better
- Enemy drone sounds changed to something better
- Toggle UI button added to option menu
- Shop NPCs now wave and greet the player during first contact
- FOV controls added to the options
- 2 New Personal Contracts added, look for 2 men standing around Leavenworth to pick up these contracts
- Auto-notifications that pop up during opening the boat console has now been spaced out
- All killable will automatically despawn over time, this will help clean up the game.
- Removed player's ability to place furniture in Leavenworth. Put that storage crate on your own property!
- Fixed small buoy physics, no longer flipped
- New creatures run away from Leavenworth, if they get too close
- Can no longer access storage crates from far distances
- Boat now saves the damage visual effects
- Waster Gunboat now has aggro. Don't piss it off!
- 5 New achievements added
***NEW GAME EXTREMELY RECOMMENDED***
Damage Reductions:
Hammer: 35 to 15
Wrench: 35 to 15
Offhand Attack: 100 to 15
Shotgun: 30 to 25
Sniper Rifle: 500 to 200
Note:
As always we'll keep adding and maintaining the new features we introduce. Will be posting a 0.34 update preview sometime soon. I'll give you a hint, it has something to do with diving……
Thank you,
CodeBullet