09 December 2016 Categories: News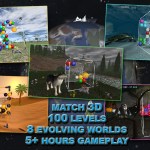 Kyball Demo for Windows is finally here! Get it now from the Downloads tab and send us your reviews!
We also need your support to get Kyball on Steam! We have just publicized the game on Steam Greenlight and kindly ask you to vote for us.
The full Kyball Windows version is complete. However, we intend to add more features till the game's release on Steam. We are also in the process of porting it to:
Linux
Mac OS
iOS
Android
VR
We are opening a poll in the next few days in order to assess which platforms and features gamers are mostly looking forward to.