Greetings and welcome back to our second blog about the making of the music for Kingdoms of Arda.
Today we have some previews for you together with further information. But firstly it is important to take note that Kingdoms Of Arda is special in that there are already three composers, and soon maybe even more considering the time Bannerlord may take to come out. There is Aske, already having credit for being lead in making music for Third Age: Total War. Martin, an aspring movie composer and me, Felix also music producer and composer. Over time we've gathered Papalime, Dragens, Maximilian and Durin as well!
For Kingdoms Of Arda we want to create a whole symphonic soundtrack, a full Orchestra and Choir - together with a bunch of solo instruments.
But - how do we go about creating this mods soundtrack ?
All of you certainly understand that we have neither the time, nor the budget to record a real symphony orchestra. This is why all of KoAs music will be created digitally and virtually.
In fact the work of recording an orchestra has already been done for us. A number of companies set out to accurately sample each of the orchestras sections and then programmed it to enable us to use their so called "sample libraries" in dedicated audio software. These Digital Audio Workstations (DAW) are capable of mixing and arranging and simply of letting your ideas come to life.
In the industry sample libraries are used to preview the composition, before it is recorded being played by a real orchestra. Nowadays, some of these virtual instruments can fool even a golden ear, if used properly. EastWests Hollywood Orchestra is definitely known as one of them, CineOrchestra and the Cinematic Studio Series as well - they are the main source of almost all the music you'll hear in Kingdoms Of Arda.
If you have more interest in the technical side of things, it will be continued later on in this series and treated more expansively, the next blog will focus on this stuff.
Surely all of us have seen the two film trilogies and thus have heard Shore's movie scores. Now Kingdoms of Arda needs to walk the tightrope between original music and own ideas. Basically the plan looks like this:
Famous parts of the movie score will be recreated to a certain degree, this boils down too using the same chords, very similar arrangement and even copying melodies. The ridiculously catchy brass motif for the Isengard theme, the epic choirs for the evil powers of Mordor or Rohan melancholic suites incorporating a fiddle - all this will be part of KoA's Soundtrack. Let's hear it:
This is what Isengards maintheme sounds like, undoubtedly quite similar to the original. Already scored factions and locations will have a familiar sound. This way we can ensure to have this LOTR-feeling right off the bat.
Due to the fact KoAs first release only includes Gondor, Rohan, Isengard and Mordor you will know some of the music you hear . Each faction has it's own music and several cues for several occasions. Plans are this:
MAINTHEME
Each faction is going to have a maintheme. These are about 120 - 150 seconds long and represent the faction itself. Usually they will be more heroic and hymn-like and approach each faction in a more epic tone. In these 2 minutes we try to clearly show their sonical identity and motivate the player.
As these are the first samples, I decided to fully show a faction's maintheme at the beginning. Here you can get an idea of the development of a maintheme and how long they gonna be. Has anybody an idea what faction's theme this could be?
If we get Bannerlord to somehow remember as which faction you played the last time, chances are the specific maintheme will be heard in the title-screen for the first time after starting the game - to instantly hook you up.
ATMOSPHERE, AMBIENCE, TRAVELING
Once again each faction will boast multiple pieces falling under this category. They provide material from 3 up to 5 minutes and can be heard most of the time when simply traveling around on the world map. Depending on the region you are in, specific music for this part of the world map is triggered. Gondorian music for Gondor, wilderness for Wilderland and so on.
These suites have a more static feel to them and progress more slowly by utilising more longwinded motifs. Nevertheless they rely on sudden outbursts of drama and suspension to keep things interesting. They are supposed to provide an atmospheric background for the most extensive part of every Mount&Blade - the world map.
LOCATION
Upon leaving the World map you might "take a walk around the streets" in a settlement. For some of them you'll have a specific location cue. The Morannon, Moria and Carn Dûm for example will have their own location cues. They are shorter pieces to represent places of particular interest.
EVENTS
Anything event-related will have specific music. This includes mainly music playing after victory or defeat - each faction having their own cues. Glorious and heroic or uplifting melodies for victories and the exact opposite for defeats.
As you can hear, these pieces will be rather short, as hearing victorious music all the time whilst already riding into the next defeat would be little bit awkward.
BATTLE
Now this is where the action starts. Quick and chaotic or heroic and menacing these tracks ought to enhance your battle experience. Battle cues will take a more martial approach to each factions sonic material. However, since we do not know the battle gameplay to its fullest yet, it is difficult to do these beforehand. If for example most of the time every party takes formation for half an hour at the beginning it would be pretty odd to let the orchestra go full blast from the get go. Should everybody start charging right away, then this will be fine. Anyways, the battle cues come up with some heavy orchestral pounding soon enough. Here is a non-specific extract of an action cue: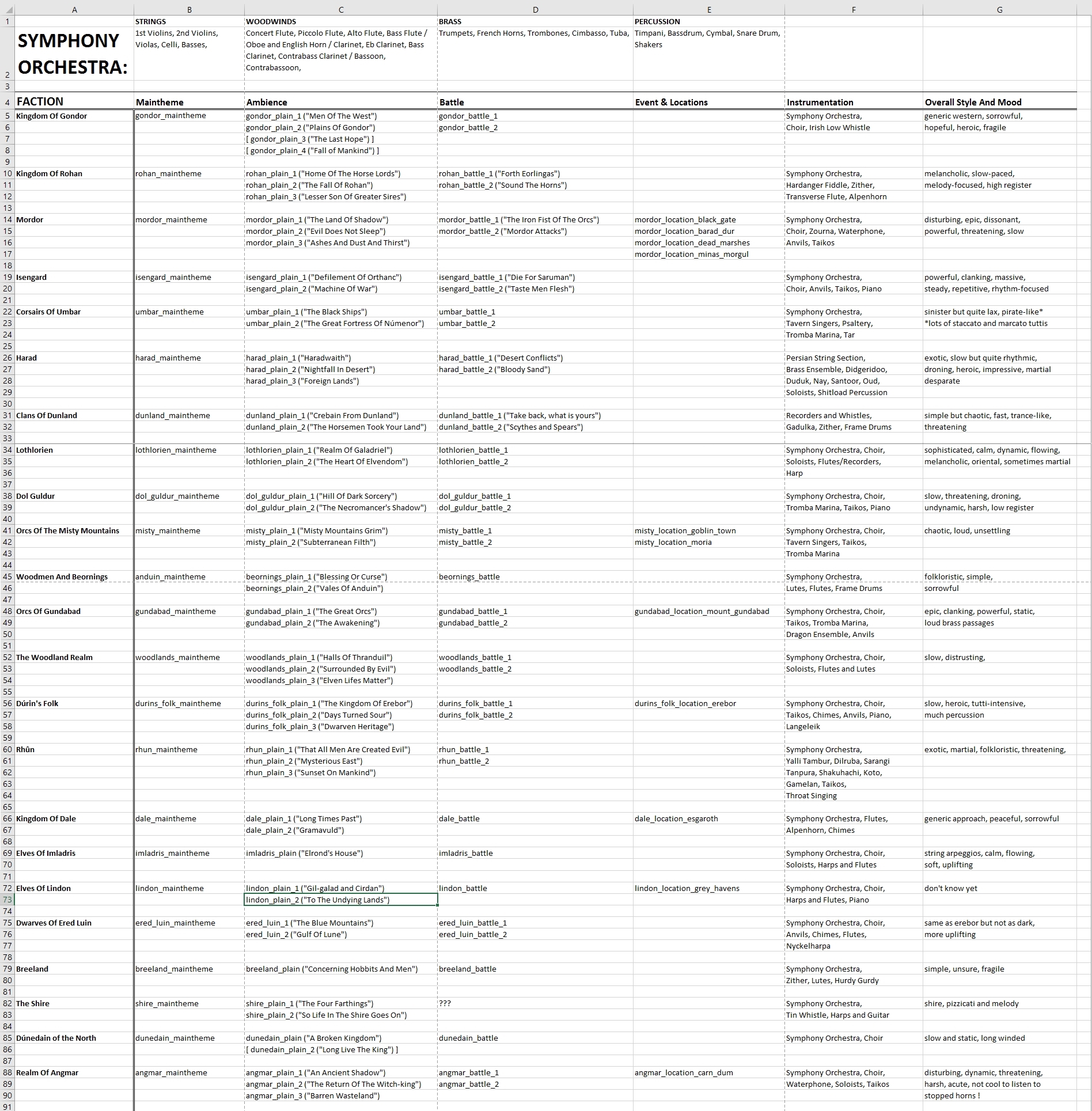 Here you can see what I plan to do for this mod. The battle column is entirely speculation because as I said, nothing is known about their length, structure and number. Everything you see here will certainly sum up to at least 250 minutes of music over the course of months or years. And this is only me - Our other artists will create an awful lot more too!
On the right there are rough ideas about instrumentation and style but none of it mandatory, subject to change without notice.
If you have any ideas about the mood of several factions or general suggestions, feel free to leave a comment.
Another blog comes to its end, this time with first teasers and previews – we hope you enjoyed it and feel even more hyped now !
Any questions and/or suggestions are highly appreciated. Until then, we'll see each other in the next blog – focusing on the digital creation of the soundtrack.
Felix Leibik