Kate is Playable
Kate had to under go some changes in order to fit in Bob's skeleton. Had to ditch those baggy pants cause that would have been hard to animate as is. I've been tweaking the assets in order to get her running in the game properly.
Click the pic to see the vine

This is Kate with the exact same color scheme as Bob.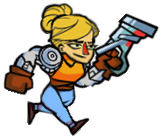 Here's kate in the game currently, wearing some jeans an a white sleeveless shirt.
And these are some rough sketches of her clothing and color schemes. I'm really bad at color. Also I can't get to much detail on the character cause of the size of the sprites. Wanted to do some knee pads but they don't work very well in the animation.
I know it's rough but any favorites? Let us know which one you like the most on the comments!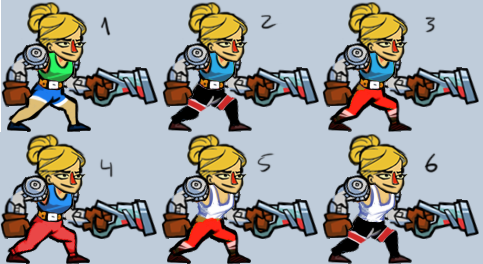 We're on Greenlight :D!
Go check out our new Greenlight page! Please! Help us get our game on Steam! :D
Also you should add us to your favorite social networks 'cause we are cool cats. ;) See you soon!