Ask and you'll receive.
At the request of one of the players, bots -- computer controlled cars -- have been added to KarBOOM. Now even when you're home alone (or at work) you can keep your hands quick and your skills sharpened by playing against bots.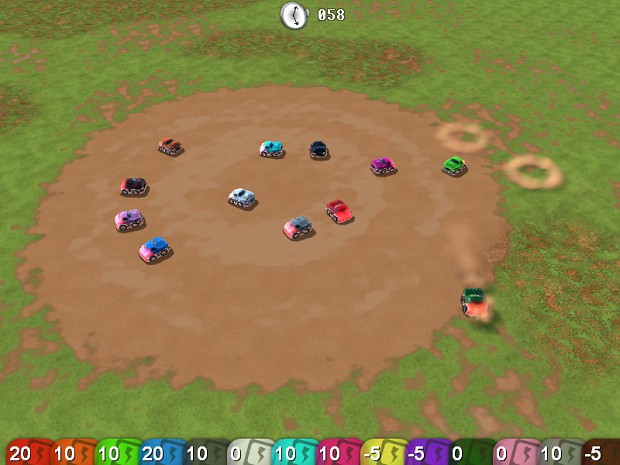 Online play is still on the way, but when a player suggested KarBOOM would also be a fun singleplayer game if AI-controlled cars were added, I couldn't resist giving it a go. The cars are already set up to be controlled from a variety of sources, so how hard could it be to let the computer drive?
So check it out on KarBOOM's IndieDB downloads page. Or, if KarBOOM 0.1.4 hasn't been authorised yet, get it right now from KarBOOM's website here. It's free. It's small (around 7MB). There's no installation. And it's fun.
Now, it is true that version 0.1.3 was described as the last offline-only version of KarBOOM only a couple of days ago. But plans change. People make requests, and while they're generally helpful, some are just brilliant. Bots for KarBOOM only took a day's work to add, while online is probably at least a week away. And don't worry, I'm working hard on it.
Speaking of requests, here are some things that recently made it onto my to-do list:
King of the Hill - It's really a surprise KarBOOM doesn't already have it. They'd be a perfect match.
Flag games - Capture the flag, hold the flag -- there are a bunch of different mutators that could revolve around flags.
More levels - This has actually been on the to-do list for a while, and will probably be the next big focus after online is finished. And don't think "level select" (even if the latest update does have such an option to fill a small need for now) -- I'm thinking "procedurally generated levels". The mix-and-match nature of the mutators has potential to make for such varied play, why stick with preset levels? Choose the size, add barriers and obstacles, maybe a pit in the middle...
Those are just in my imagination for now, but that's the direction I'd like to take this game after online is up and running.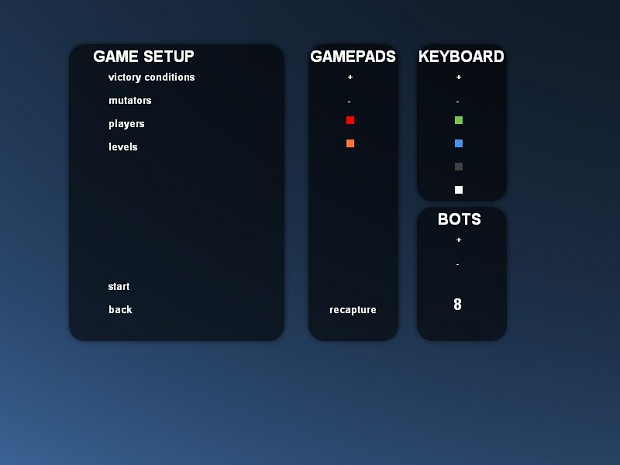 Download and play the latest version of KarBOOM (0.1.4), and let me know how it goes. This game is shaped by player feedback, and your support is what motivates me to keep going!
Speaking of support (you guessed it): Phase 1 of the Indie Of The Year voting has not finished just yet. Giving KarBOOM a vote is a great and easy way to show your support!