Exterminatus mod for the Source game engine, news update for June 2010. This month we have a new open beta version 5.03 that aims to fix a client crash during map changes, replace the Veterans Inferno pistol with a Plasma pistol and add a new Tactial overview window.
During the initial development of EX it appears I made a bit of a fluff up with the intermission code that switches from one map to another when the round is won. If the new map takes too long to load EX was trying to load the next map in the server's rotation. This occasionally caused servers to prefer faster loading maps and clients to crash when they couldn't to cope with having loaded a different map to the one the server now wants to play. This rather tricky bug to track down has been diagnosed and squished since the last update and it's fix is part of Beta 5.03. If you experience any more crashes during map change please Report It
In the warhammer universe Inferno pistols are incredibly rare. During the initial development of EX I decided to include inferno pistols to save on the different types of weapon effects I would have to code for. Now the mod has matured a bit and i'm not so pressed I have decided to replace the Inferno pistol, with a slightly more conventional weapon. From beta 5.03 onwards Veteran's will be equipped with a combination of chainsword and plasma pistol. Due to it being so incredibly new to the mod the plasma pistol may have bugs that are unknown, if you find bugs in this new combo weapon please let me know.
A few times to have something has been requested to shows the status of all the objectives in the current map. The new "Tactial Overview" window ( F1 by default ), is built around this concept. The overview also shows you your team, mission, class and the amount of ammunition you have for each of your weapons. More features (like a mini-map) may be added to the Overview in later betas, depending on demand. As always suggestions and bug reports welcome on the EX forum.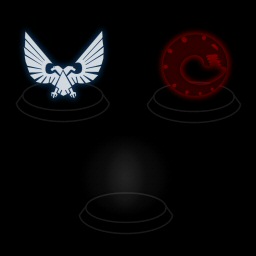 I never did get any of the sound effects I mentioned in the last news update made, so i've had to re-use other sounds from EX and the Source SDK. If you think it sounds bad now, consider how much worse it would be if it was me making "pew pew" noises into a headset.
As usual all the download mirrors for this new version can be found on the
Downloads Page