Hello everyone and welcome to our July 2017 update!

We've been hard at work the past month, polishing the game and fixing up bugs reported to us by testers from within our community, as well as adding new and exciting content.
Let's start this update off with icons! We have decided on a style for all of our in-game icons. Age of Aincrad will be using hexagons for all items, equipment and skills you might find in the game. At the top you can see a one handed blade, and below it is a teleportation rune. Each rune in Age of Aincrad will have its own type of engraving specifically tailored for the location it teleports to. Next up is a skill icon, in this case Horizontal Slash. Last of the bunch is the basic Pickaxe you'll be using to mine ore and crystals in the beginning of the game. It can also be used as a weapon, having its own set of abilities.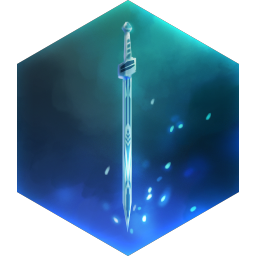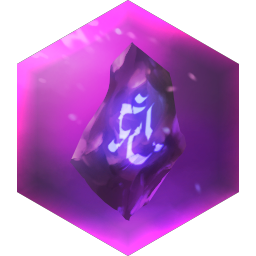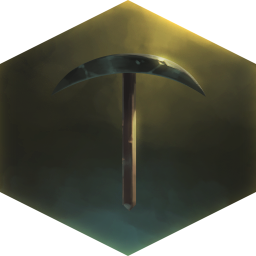 Next up is armor: our 3D Artists have been working on a few new sets of medium and heavy armor. In the picture below you can see the entire work-in-progress Leather Armor set. It's a Medium weight type armor, top to bottom being the chest piece, shoulder pads, leggings and boots. A helmet as well as gloves are also being currently worked on. This is one of the most basic armor sets in the game, but with some upgrades it will be able to assist you in quite a few areas in the beginning stages of your adventure through Aincrad.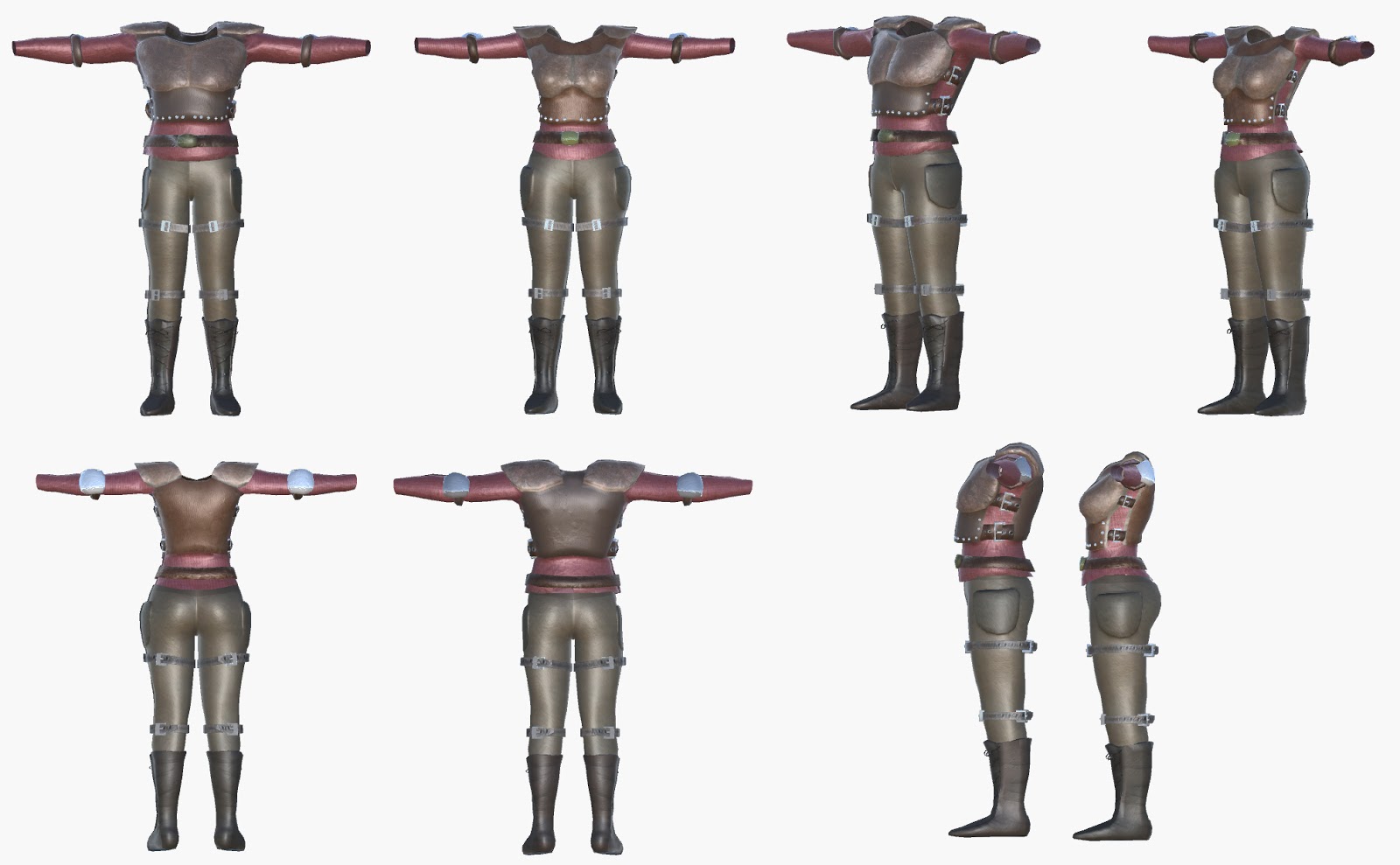 The armor below, on the other hand, is our Obsidian Armor. It consists of a helmet (not in the screenshot), a chestplate, gloves, shoulder guards, leggings and boots. It is a heavy armor set as you can tell by the way it looks and can be crafted from obsidian, which is one of the high-tier resources you can gather in Age of Aincrad. Unlike the leather armor, this one is a bit harder to get a hold of, but massively worth it.

Next up, you can also check out some work-in-progress character concept art of our main in-game characters. On the left, a powerful warrior with a big heart and a bigger weapon, Dovan. In the middle his friend and equal, Irrdath - a brilliant tactician and general. On the far right, the main antagonist of Age of Aincrad, Milag, who turned their lives into a living hell and triggered a war between the two warriors, which lasted over 20 years.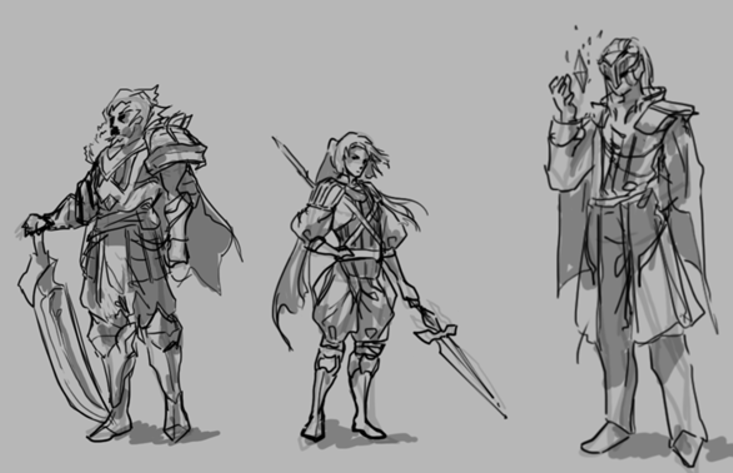 We also have finished the first version of the AoA Launcher. It currently incorporates a link to our main homepage and a registration page, a link to our forums and a link to our support section. You can see the current game build and patch notes on the left, with news from the homepage on the right. On the bottom is a progress bar, showing the files currently being download. In the future, we plan to include a newsfeed for our social media into the client, a way to display the total amount of files and size left to download, as well as scrolling background pictures (right now, we are using a screenshot we posted some time ago on our Facebook page).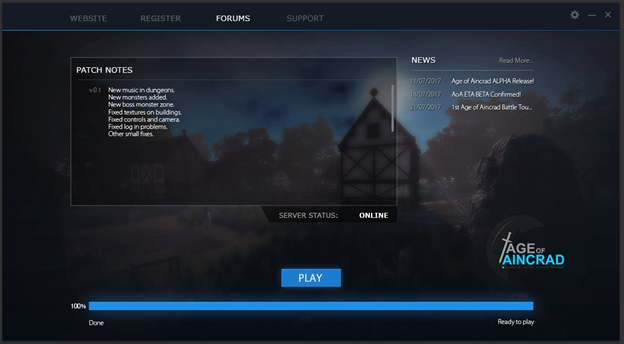 Apart from the updates above, we have finished a lot of new locations and environments on the first floor, ready to explore.
On the first screenshot you can see wheat fields behind the starting village on Floor One (Artuax), called Silirad. It is not a big village, but it has lots of charm and inhabitants with quests and worries to speak to. It is a farming oriented village where most of the wheat on Floor One gets produced and later on transported to the main town on Floor One, Wimbourne, in order to be used for flour in bakeries.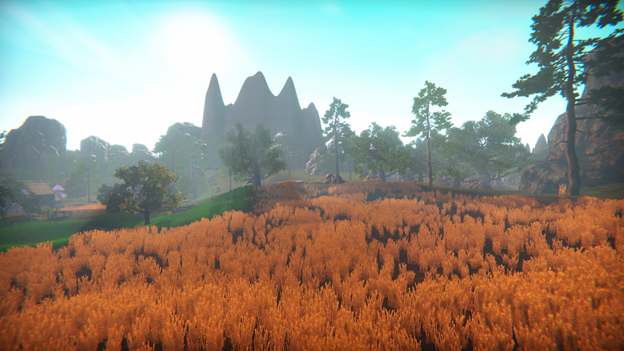 On the second screenshot, you can see the entrance to the second location you will likely encounter on your adventures on the first floor, Rathos (assuming you stick to the path). It is a small town, surrounded by wooden walls, with two gigantic trees growing inside of it. Many more villagers, a blacksmith able to teach you the basics of weapon crafting, but most importantly, a big tavern riddled with liveliness, in which you can drink your worries away with the local bards playing their songs as you take a sip of your well deserved drink of choice.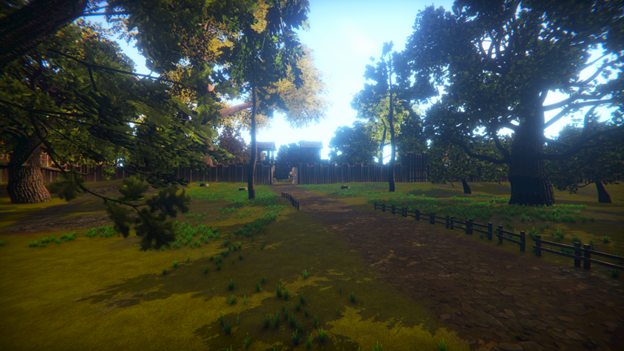 On your way from Silirad to Rathos, you can take a turn mid-way and make your way to the Woodcutter Camp. It's one of the main camps on Floor One. Below you can see the gates from inside of it, as well as an area in which woodcutters have already finished cutting down some trees. You will be able to pick up the basics of Woodcutting there, as well as receive your very own Axe, which is able to cut down not only trees, but also foes standing on your way.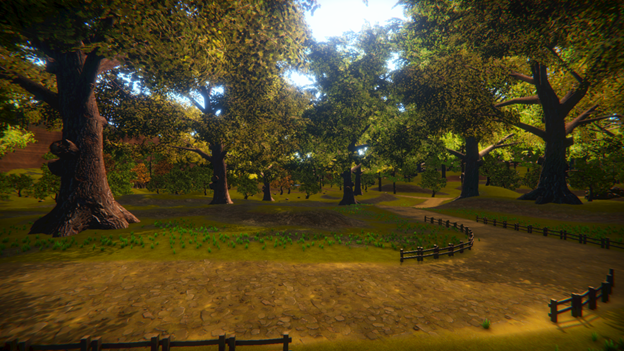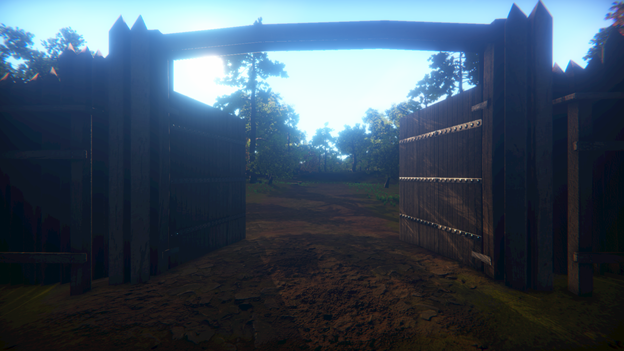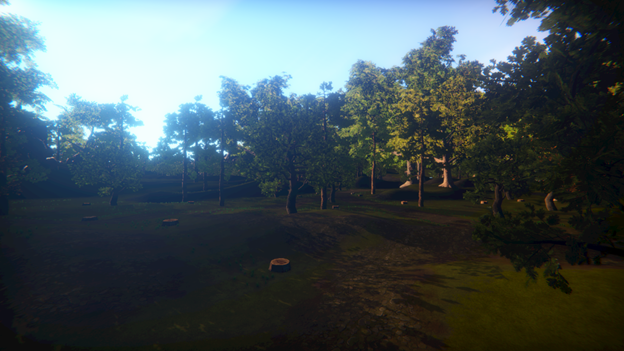 And lastly, to end this month's update on a particularly high note, an image of the bridge leading to and from Silirad. On the other side of the bridge you can catch a glimpse of the village itself. You will also be able to fish in the pond here, standing from the bridge or from the high ground surrounding the water— that is, if the village chief doesn't see you doing it.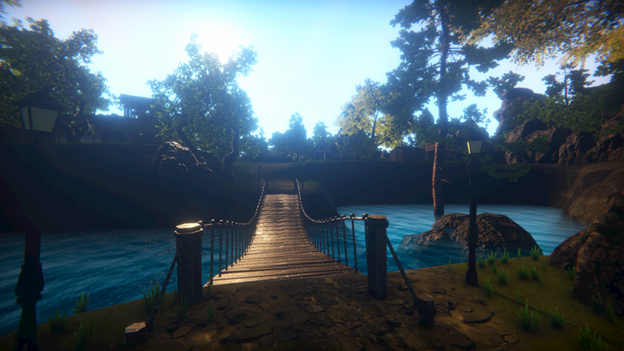 We hope you enjoyed this month's update! A tremendous amount of progress has been made lately, and we look forward to showing you more in the coming months. Be sure to keep an eye on our social media pages as well as our forums to find more screenshots and previews of Age of Aincrad.
Facebook: Age of Aincrad on Facebook
Twitter: Age of Aincrad on Twitter
YouTube: Age of Aincrad Youtube Channel
We've added new screenshots to our IndieDB page. Be sure to ask questions in the comments and share with your friends!