News Post - The Briefs
Hello! Dean here, the founder of Greenlight Games. Thank you for dropping by, we appreciate any time you spend reading or looking at our stuff!
This post is all about telling you guys what we're up to, what's going to happen and most importantly how you can support us. To make GOMBIES grow and create a thriving community we can feed from for incentives & support!
Support Us
So what are we asking for when we ask you to support us? Help? Money? Nope.
All we ask is that you please interact with us! Let us know you're there, we've had almost 10,000 hits on IndieDB and get around 3,000 hits on our website yet have received less than 20 comments.
We know you guys are there, watching us work, looking at our ideas. Please let us know what you think! Comment on our concept stuff, our music, images, news posts and most importantly join our Forums!
Greenlightgames.co.uk
You people, the ones out there watching us from behind closed doors. You are the people that can really make this happen. Without your support we have no one to create games for. GOMBIES is our first major project for Greenlight Games and we have so many more ideas and projects to move onto afterwards. We're a small and new independent games studio and we want you to join us for this roller-coaster of a ride!
So please, check us out on Facebook, Twitter, YouTube & our website! We would love your support.
Facebook.com
Twitter.com
Youtube.com
Greenlightgames.co.uk
Steamcommunity.com
Whilst you're at it, why not Watch GOMBIES via IndieDB?
Thank you.
Alpha Demo
OK so moving onto some more exciting stuff, the Alpha Demo!
Right now the whole team are working on getting an Alpha Demo created, the date we've set is May 1st.
But even more excitingly this demo isn't just for you guys to see what GOMBIES will be like, Oh no. It's for Microsoft.
We're half way through the Xbox ID programme which would allow us to develop and release GOMBIES on the Xbox One. The last part involves us sending a Demo or Video Footage of our demo to Microsoft to analyse. So no pressure, right?
The Alpha Demo will consist of one level (Chapter 5) and will allow you to play Solo or Cooperative locally with Xbox Controller support. We're hoping to have the basics of all game play implemented for the demo but of course this will all be alpha. So there may be some bugs lurking.. But we will do our best to deliver something fun and exciting within the time frame.
Concept Work
OK, so enough text, enough reading? If you're already watching GOMBIES via IndieDB you would have probably seen these images go live yesterday. But here's some new concept and 3D art work for you all to see. On top of that, we have some sample songs that will be used through the game.
Main Characters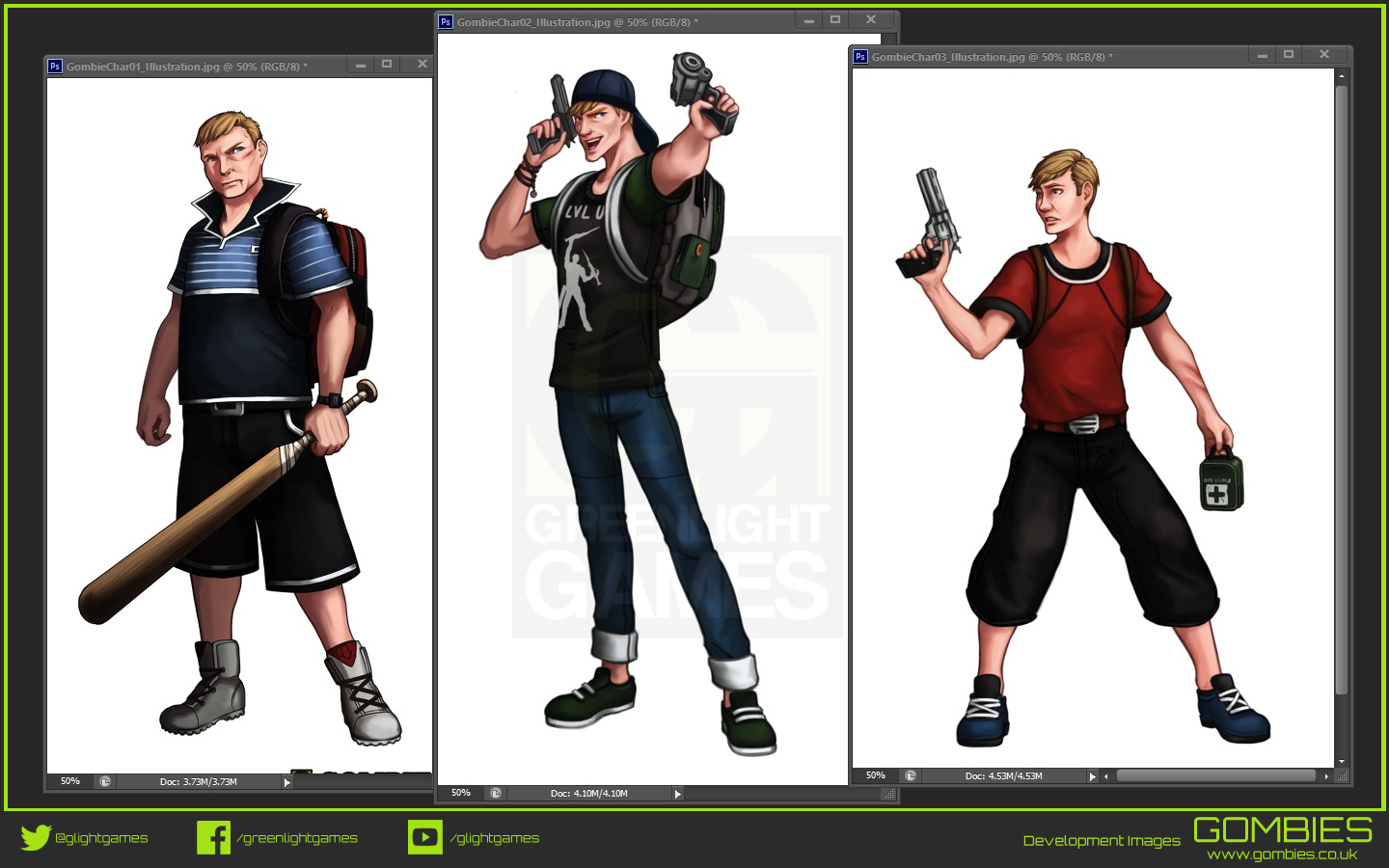 Music
Exploration Music 1
Exploration Music 2

Fighting Loop 1

Fighting Loop 2

Fighting Loop 3

Thank You
Finally, we just want to say Thank You. I know I've said it alot, but honestly we really do mean it. Any support we receive from people across the world is amazing, so if you can take the time to help us spread the word of GOMBIES we would be eternally grateful.
We wish you all the best,
Dean & the GOMBIES dev team.