Hello, Scouts!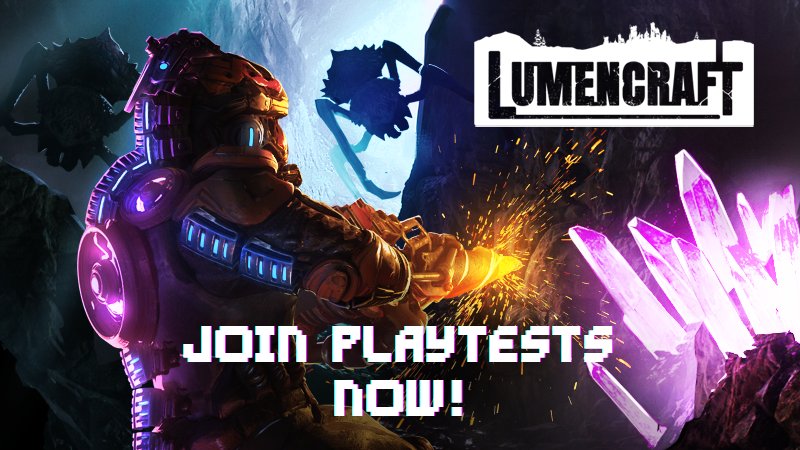 Guys, what is happening! We are super excited to announce that the playtests are here! Prepare your drills, because Lumencraft is ready (well, almost) to suck you into action.

PLAYTESTS
While you are reading this you shall also be downloading the newest version of Lumencraft💜. We worked really hard to deliver you the best possible drilling experience and we hope that you will like it! And if you have any suggestions, feel free to tell us. During those 3 weeks, together we will ensure that Lumencraft is prepared for Early Acess!

Is lumen not shiny enough? Is Boss not badass enough? Is swarm not annoying enough? LET US KNOW. This is a pre-Early Access stage so we are putting extra, extra effort into polishing our precious lumens.

Your feedback is super, super, super important. Like really ✨super✨. We would price it around… 1000 lumen crystals per report.

To sum up, for 3 weeks - from now till 7th March, you can play Lumencraft for free. Enjoy and share your feedback with us on Discord!




WHAT'S NEXT?
You may wonder what will happen next. We are not going to spill the beans right now, but the release is coming. And it's making big steps ;)

We will be updating Lumencraft often during the playtests, but we expect that if someone finds a boss-sized bug, we will need more time to fix this. (Fingers crossed there will only be a few swarm-sized problems!) So after playtests, we will get back to working on this version. Till the release. And then? I think you already know 😉

Stay with us, report everything that seems wrong, suggest everything you want, and most importantly - have fun drilling!

Remember: to help us survive in this unwelcoming environment wishlist Lumencraft and give us a "follow" on Steam⚙️, join our Discord 🎧 server and follow us on Facebook 👍 and Twitter 🐦