A new kid has arrived in the neighborhood,
dude's called Jobchanger Brigade!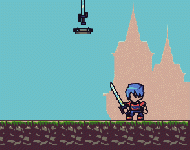 Want hard bosses? Want to craft a new sword using the monster's arm? Want to be a cool mage that shots triple fireballs who picks up the enemies sword and becomes a air combo-ing warrior? You can do all those things and much more, but first I have to add them to the game. Did I mention P2P online co-op?
Think I'm full of it? See what I already have done for preAlpha 2014/09/07:

feature list of release 2014/09/07:
Movement and jumping
Jobchanging by relic touching
Warrior and Wizard jobs
Ground and air style for Warrior
Ice and fire style for Wizard
Slime enemy
Orc boss fight
Procedurally generated landscape example
Next priorities:
Getting the current release to work with online multiplayer right away
Balancing the alpha a bit more, with extra lives for the hero
Tweaking Wizard's ice style
Changing the warrior's charged attack
Stamina system
Online co-op is functional but too rough right now, we'll see how much we can polish it for the next release!We're hoping to release new preAlphas weekly or biweekly, depending on how development goes. Setting up websites and social stuff ate up some time so we'll likely release a new preAlpha on September 21th. This isn't a promise though, haha.
I'm psyched! I'll do my best guys!
If you liked the video, subscribe to our channel below:

Watch us on IndieDB for the latest news, downloads and media!
Please also join us on: