You can buy Jazz Jackrabbit 2 for the first time this century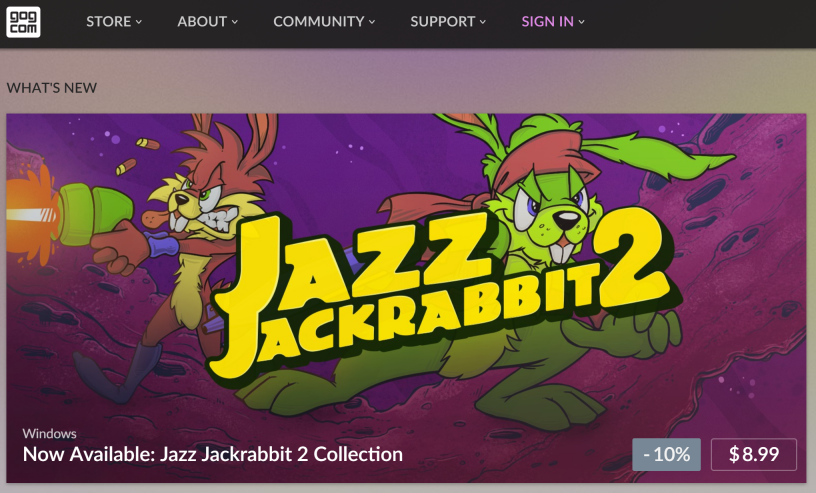 Huge news, y'all! Thanks to the impeccable legal prowess of the folks at GOG.com, the Jazz Jackrabbit series is available for purchase again! If you don't own the games legally yet, or if you own the CDs but want digital copies, or you just want to support the games, or for any reason at all, you can buy them right here: Jazz 2; Jazz 1
Not only that, but JJ2+ is included. You buy Jazz 2 from GOG, you can install JJ2+ directly through the GOG Galaxy client (or from a manual download link from their website). We now have pretty much as close as it's possible to get to official approval from Epic Games as an integral part of the Jazz 2 experience. Epic and GOG contacted me the other week and we tracked down a bunch of people and jumped through some legal hoops etc. and now everything's wonderful! Jazz 2 and Jazz 1 were at the top of GOG's bestsellers list for several days after their initial release and it was great to see. We'd all been waiting for this to happen for so very long.
---
Issue Tracker
The next JJ2+ release isn't quite ready yet, but as of today, we have a dedicated public issue tracker. If you've found a bug in our patch, or if there's something you'd like to see changed or added, this is the place for you to go. Previously we'd been making do with a couple forum threads, but those were hard to navigate, and there was no easy way of going back to old reports or suggestions and marking them as having been completed. But now there's a tracker forum! Please fill it up with lots of things that are not yet as perfect as they could be!
---
Use MLLE to make levels with JJ2+ features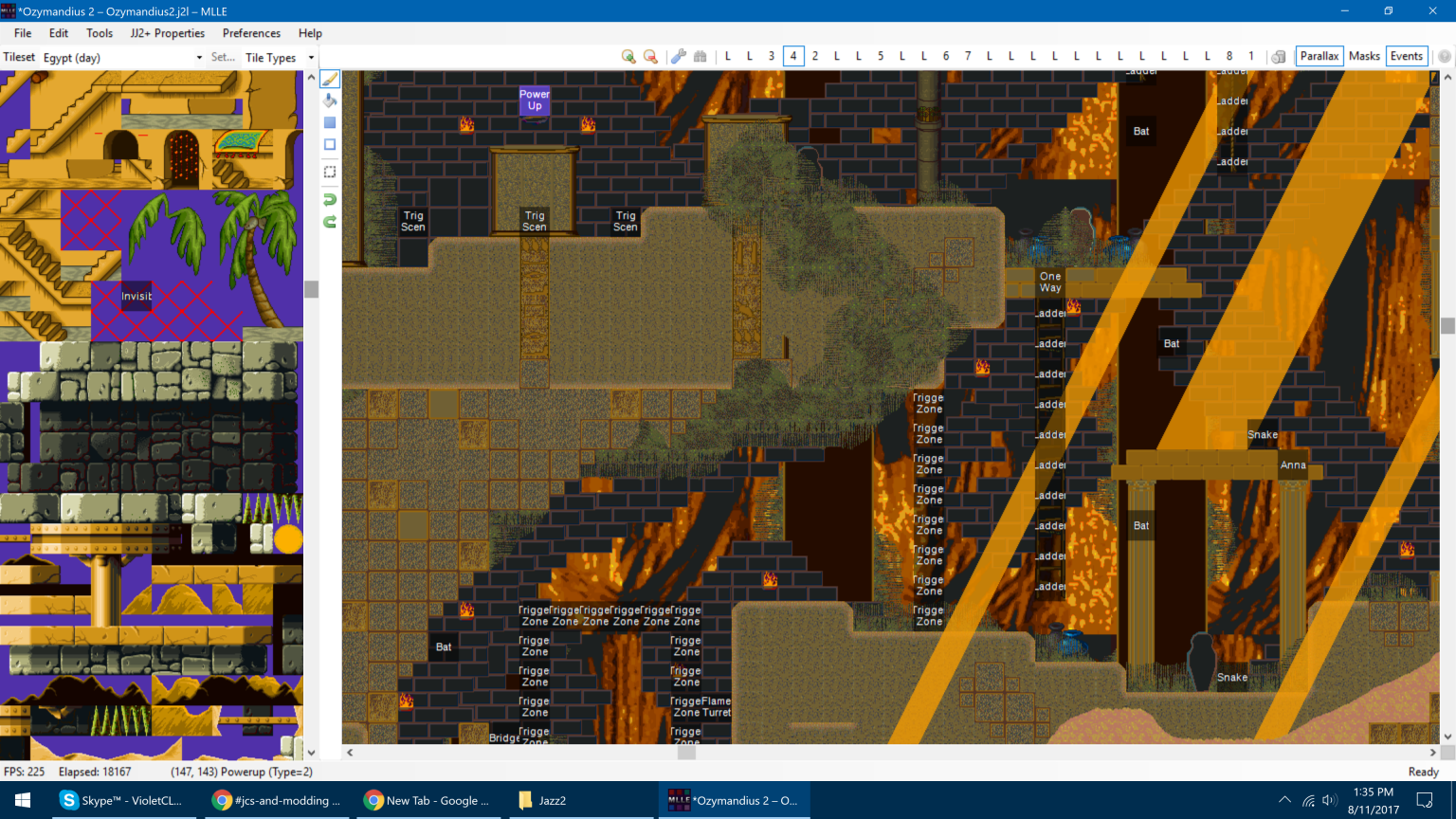 If you've been following JJ2+ for a while, you know that it brings a lot of awesome new features to the game for level designers to use, such as the ability to use more than eight layers in a level, or use multiple tilesets at the same time, or edit the palette. Such features had always been a little inconvenient to actually set up, though, because JCS, the game's official level editor, never supported any of that stuff. Fortunately, Multi-Layer Level Editor (MLLE) is an unofficial level editor that does almost everything JCS can do, plus lots more. If you want to make a level with five tilesets and dozens of parallax layers, designing your own palette and drawing some of your own tiles in the process, MLLE lets you do all that stuff and more from inside the editor. Check it out and make some of the most graphically rich JJ2+ levels ever seen!
---
Jazz Duelists' Challenge Season 28 starts this weekend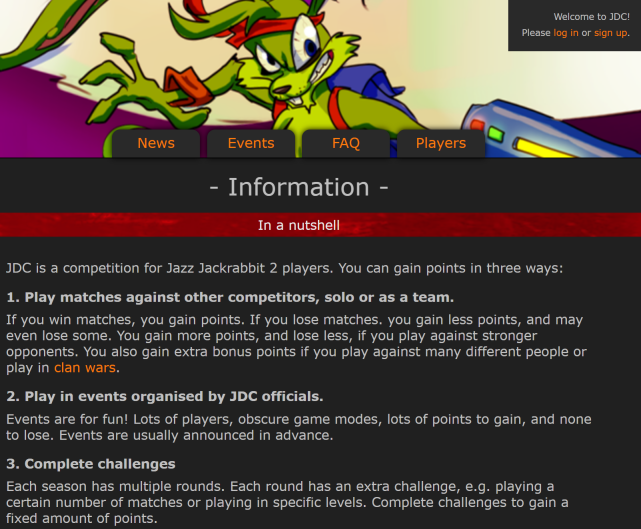 For twenty-seven seasons now, Jazz Duelists' Challenge has been the place to go to play Jazz 2 online multiplayer with your friends and rivals. Between duels, challenges, and organized events, no matter your preferred playstyle there's bound to be something there for you. And the next season is starting this very weekend, to celebrate the holiday season and to celebrate Jazz 2 being sold on GOG.com. Grab your blasters, login or register a new account, and get ready to roast some rabbits... there should be some unexpected surprises coming up this season! ;)
---
What's yet to come?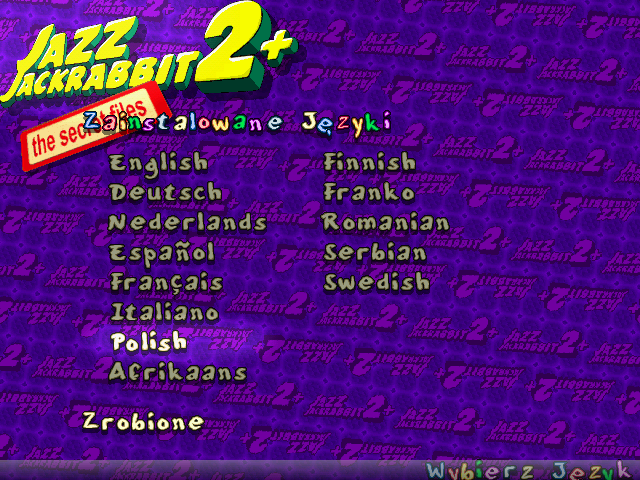 As I said earlier, the next JJ2+ release isn't ready yet, but as always we're working to put together cool stuff for you, such as the above screenshot. And in the meantime we have slightly updated the last JJ2+ release, to include a new example level ("Seasons of Diamondus") and a new mutator (sejtf.mut, which transforms normal JJ2 gameplay by letting you choose a new character class every time you die, each with its own set of weapons). This was mostly done to get rid of some old copyright-infringing stuff to make it easier to get JJ2+ onto GOG, but as a side benefit, you get more cool Jazzy stuff to play with. :) Though as usual, don't forget to check out Jazz 2 Online's downloads section for more cool Jazzy stuff than it's possible to imagine.