Here it is – another blog post about game mechanics! This time I'm going to talk a little about the item handling and inventory system in Prisonscape. I've been giving this a lot of thought, since carrying almost any items in addition to your clothes is forbidden in maximum security prisons, but like I've mentioned, we're not creating a 100% realistic prison simulation and therefore have to "loosen up" the rules a bit. The reason for this is the job system (quest system in most RPGs) and the need to carry items around.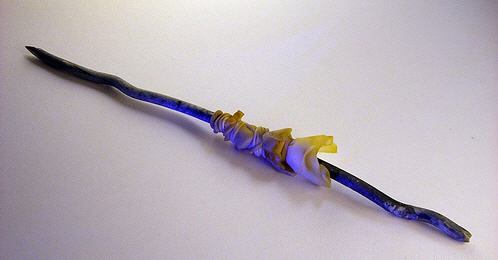 This is how I have categorized items in Prisonscape: trade goods, hot items and job items (job items can be hot items, too). Trade goods are the currency inside and outside of prison. Inside it's stuff like cigarettes, Reese's pieces and cookies. You know, stuff you can use for trading almost anything. Because it's no use to create a separate item for each trade good, I've decided to combine them under one category. Outside the prison this is of course money, which can be used and transferred when needed.
Hot items are items that are forbidden inside – this can include dope, weapons, etc. Hot items need to be concealed in various places around the prison (when carrying, they're usually, you know… inside you) including your cell. If you're caught with a hot item, it will be confiscated and you'll get some alone time in the hole. Hot items also have size, so that bigger items are harder to hide than small items.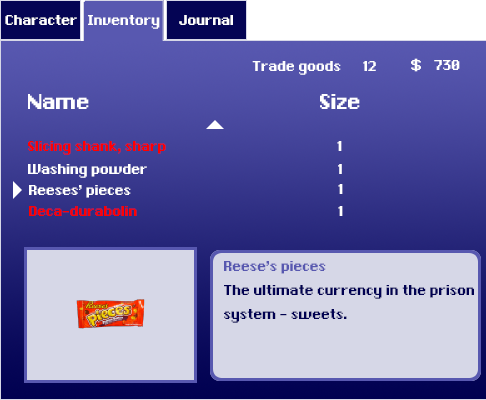 Job items are the ones you can carry without a risk of losing them. This way the story line is not obstructed and you can feel safe carrying them around. There are, of course, some items that are hot AND job items, but this will not affect any of the main story lines. The idea with this kind of item and inventory handling is to simplify the whole mechanics so that it does not affect the gameplay negatively.